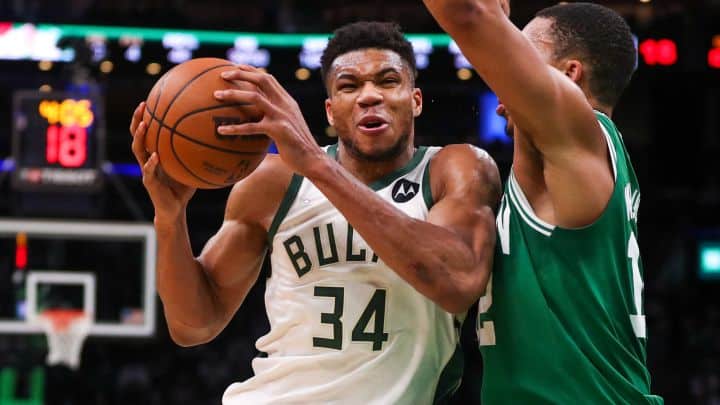 It's likely no coincidence that Giannis Antetokounmpo has cleared the health and safety protocols for the December 25th Celtics at Bucks betting matchup. The Christmas Day slate is the NBA's premier regular season event and it just wouldn't be the same without one the league's most marketable stars.
Boston on the other hand is not so lucky. They'll have their marquee names like Jayson Tatum and Jaylen Brown available, but have around 10 players in health and safety protocols and a couple others facing injuries. As a result, Milwaukee is a -7 point favorite in Saturday afternoon's matchup at Fiserv Forum.
Two Man Wrecking Crew for Boston
Tatum and Brown are going to have to carry even more of a load in the December 25th Celtics at Bucks matchup. Brown has been gradually improving since his return to the lineup, posting 20, 23, 30, and 34 points the last four games. Tatum has only averaged 17.5 ppg the last two, down from his 25.6 season average.
It's not necessarily who is in the lineup that is going to determine the game for Boston – but who is out. Al Horford and Grant Williams could be missing from the Boston front court and Marcus Smart is questionable with a hip injury. Those are starters, but the Celtics are also down key depth with Josh Richardson, Enes Freedom, Juancho Hernangomez, and Bruno Fernando among those in the health and safety protocols.
Boston is even down a few players from their 111-101 win over the Cavs on Wednesday, but Cleveland was also down multiple players in that game. The Celtics are also just 7-10 on the road this season and are up against a Bucks squad that is 11-5 on their home court.
Bucks Getting Back
Giannis Antetokounmpo is expected to make his first start since December 13th, so his endurance may be a factor in this matchup. Milwaukee did manage to stay afloat going 3-2 in his absence but they'll gladly have 27/11.6/5.8 back in the lineup.
The former MVP isn't the only one back in the lineup for Milwaukee on Christmas Day, as Bobby Portis has also cleared protocols and Donte DiVincenzo is set to make his season debut. The Bucks getting healthier while the Celtics add more players to protocols makes Milwaukee look like they could run away with this game.
Aside from the reinforcements the Bucks are getting back, don't forget about a couple of the players that have shouldered the load in Antetokounmpo's absence. Jrue Holiday has 24+ points in four straight games and is an obvious pick to click with that last name on Christmas. Khris Middleton is one of the more consistent players in the league with 23 in his return from a knee injury on Wednesday. Even Demarcus Cousins has shown he can still be a productive NBA player with a 12-12 double-double last Saturday vs. the Cavs and 20 ppg the last two.
Free December 25th Celtics at Bucks Betting Pick
68% of public betting is on Milwaukee on Saturday afternoon, and they do have much better depth in this matchup. Antetokounmpo is coming off a long layoff though and the Celtics are still pretty top heavy with the combination of Tatum and Brown.
Bucks 111 – Celtics 105
Pick: Celtics +7