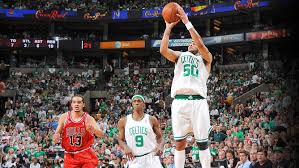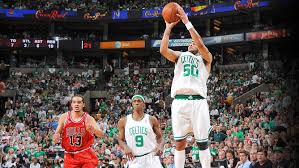 The eighth-seed Chicago Bulls (41-41) play the first-seed Boston Celtics (53-29) in their East Conference series that starts on Sunday at 6:30 p.m. At 30-11, the Celtics are a solid home team, and they have played well on the road going 23-18. The Bulls struggle when away going 16-25, while they are good at home, notching 25 wins and enduring 16 losses. Both teams have gone 7-3 for their last 10 games. Here's our Chicago plays Boston 2017 NBA playoff free pick.
Chicago Bulls Keys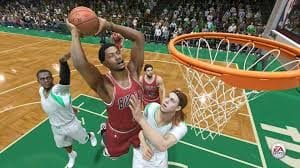 The Bulls are averaging 102.9 PPG while allowing 102.4 for a tiny +0.4 differential. Chicago is 23rd in field goal completions, doing so at the rate of 44.4%. They are completing 38.6% of their threes and 79.8% of their frees. They are strong in rebounding, averaging 46.3 RPG. On defense, the team is ranked 15th in steals and 16th in blocks. The Bulls are average on ball movement and assists.
SF Jimmy Butler (23.9 PPG, 6.2 RPG, 5.5 APG), who leads the team in shooting and assists, is tough to contain. Although SG Dwyane Wade (18.3 PPG, 3.8 APG, 1.43 SPG) is showing his age, he's still a force on the court. PF Nikola Mirotic (10.6 PPG, 5.5 RPG, 41 FG%) is a solid inside player and decent outside shooter. Center Robin Lopez, who's averaging 10.4 PPG, leads the team in rebounds with 6.4 per game. PG Rajon Rondo is a solid assist man and a good shooter and rebounder. He may be a factor off the bench.
Boston Celtics Keys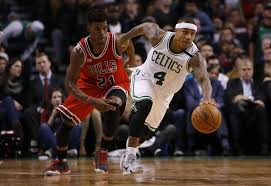 Boston is scoring on average 108.0 PPG and allowing 105.4 PPG, giving them a differential of +2.7. The team is 16th in field goal completions, hitting 45.4% of their shots and 14th in threes knocking down 35.9%. With an 80.7% free throw success rate they are third in the NBA. The Celtics are 27th in rebounding, grabbing 42.0 per game. They are a very good ball movement team, averaging 25.3 APG, which is fourth. They're averaging 7.5 steals per game, which is 18th, and they are averaging 4.1 BPG, which is 23rd.
Isaiah Thomas, a star player in the league, is dealing with a lot more than an NBA playoff series. His 22-year-old sister Chyna Thomas was killed in a single vehicle car accident in Tacoma, Washington, early Saturday morning. It's thought that she fell asleep while driving. She was not wearing her seatbelt. Thomas, who is listed as day-today, is expected to play in the Sunday evening game. But this is a huge and terrible burden he's carrying.
At PG Thomas has developed a reputation as a mesmerizing and driven fourth quarter player. He's averaging 28.9 PPG and 5.9 APG. He's goof on 46% of his shots from the field and 38% from the arc. PG Avery Bradley is another 46% shooter from the field. Bradley is averaging 16.3 PPG and is good 39% of the time from downtown. Center Al Horford can shoot, rebound, and set up plays. His stats include 14.0 PPG, 6.8 RPG, and 5.0 APG. SF Jae Crowder, another 46% shooter, is providing 13.9 PPG and 5.8 RPG.
Top Series Factors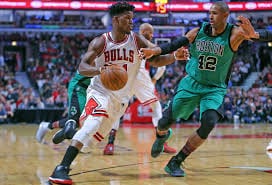 Here are some things to consider regarding this series:
The teams split the four regular season games they played this season
The Bulls have a lot of talent
If Thomas plays and is focused and on, he will be dangerous every second he's on the court
Rondo, a former Celtic, is looking to win very badly
Celtics are a great foul shooting team
The Bulls are a better team from the arc and beyond
Boston offers better ball movement
Boston is an excellent fourth-quarter team
Chicago Plays Boston 2017 NBA Playoff Free Pick
Our Chicago plays Boston 2017 NBA playoff free pick is a tough one. Although Boston is the top seed and Chicago is the last seed, these two teams are very close. We do expect close games and we thing the series will go deep. We are taking the Celtics in seven.
Chicago Plays Boston 2017 NBA Playoff Free Pick: Boston in seven