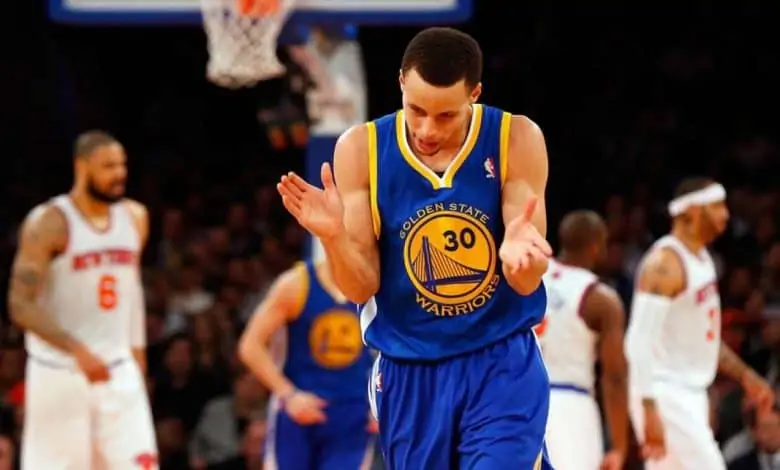 Steph Curry wasn't able to break the all-time three point record at home, but he'll get a chance at one of the most historic venues in all of sports in the December 14th Warriors at Knicks matchup. Curry heads to Madison Square Garden needing one three to tie Ray Allen, and two to break the record in this nationally televised TNT game.
Golden State does play Tuesday night's contest on the back to back following a 102-100 win in Indiana on Monday night as -4 point favorites. New York has dropped three in a row and six of their last seven, and are also a bit shorthanded ahead of this game. As a result the Warriors are -5 point favorites in what could be a historic night.
Curry Should Get Record Fairly Quick
Steph Curry getting the record is inevitable at this point, and perhaps the Warriors would rather he hit it sooner or later so the team can just get back to playing. This chase has been somewhat of a distraction, starting with Curry having to walk back remarks that he thought 16 three-pointers were possible against Portland to break the record at home three games ago.
Over the current road trip Curry has gone just 3-14 from beyond the arc in a 102-93 loss to Philadelphia and then 5-15 from downtown in the win over Indiana. Andrew Wiggins added 20 to help lead the victory over the Pacers as Golden State shot 42-84 (50%) from the floor.
The betting total in the December 14th Warriors at Knicks matchup is 212, and it will be interesting to see how fatigue plays a roll in how Golden State's #1 unit in defensive efficiency plays on Tuesday. The Knicks have scored 102 points or less in four of their last five games, so Golden State may run away with this one almost by default.
Knicks Depth Getting a Test
New York will try to snap a three game win streak without the services of RJ Barrett, Obi Toppin, and Quentin Grimes who are all in COVID protocols. With what we've seen during outbreaks in teams like the Bulls – who have 10 players in health and safety regulations – those three may not be the only ones to be out by the time tip-off happens.
It's an especially frustrating positive test for Grimes, who had 27 points powered by 9-13 shooting from three in his first career start on Sunday. Barrett had been posting some strong games recently too, with 32,19, and 19 over the last three while Toppin had 19 points and 10 rebounds in his most recent game last Friday against the Raptors.
That's some pretty significant production out of the lineup for Tuesday's game, so can the likes of Julius Randle or Derrick Rose pick up some of the slack? Randle had just 8 points on Sunday, and has now been held under 20 points in four straight games. Rose had 18 points and 7 assists after being moved into the starting lineup vs. Milwaukee.
Free December 14th Warriors at Knicks Pick
Golden State looks like a solid play here even on the back to back. Curry can get the record out of the way early, and the Warriors can cruise to a win against a shorthanded and struggling New York squad.
Warriors 113 – Knicks 104
Free Pick: Warriors -5