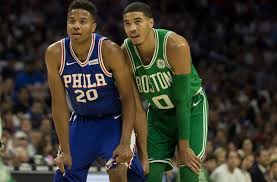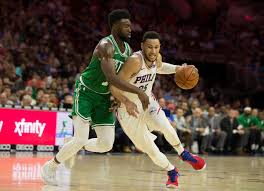 The Boston Celtics (33-10) and the Philadelphia 76ers (19-19) play today, Thursday, Jan. 11 at 3 p.m. E.T. at the O2 Arena in London, England. The Celtics have won six in a row and are seven of their last 10. Philadelphia, which sits 11.5 games behind Boston in the NBA Eastern Conference, is even for their last 10 and have won four straight games.
Our Boston plays Philadelphia 2018 NBA pick has the Celtics at -1.5 and the over/under at either 208 or 208.5. Here is how we see this game playing out.
The Celtics and 76ers Matchup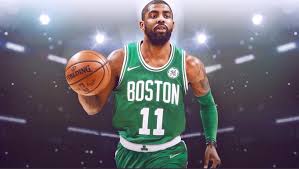 The Eastern Conference leading Celtics have the toughest defense in the NBA, as they are allowing just 97.6 PPG. They have a healthy PF/PA average of +5.1, which is second in the conference and fourth in the NBA. Boston's scoring 102.7 PPG, which is almost six points fewer than Philly's 108.6 PPG. The 7ers, who are at +0.6, are allowing 107.9 PPG.
Boston has some dead-on shooters, including PG Kyrie Irving (24.1 PPG, 5.0 APG, 48 FG%) and SG Jaylen Brown (14.1 PPG, 5.7 RPG, 46 FG%). Both are hitting 39% of their threes. SF Jayson Tatum (13.9 PPG, 5.5 RPG, 50 FG%) and PF Al Horford (13.4 PPG, 7.9 RPG, 5.3 APG) are stellar shooters. Horford is good 52% of the time from the field and 42% from downtown, while Tatum is hitting threes at a 46% rate.
For the 76ers, center Joel Embiid (23.8 PPG, 10.9 RPG, 2.0 BPG), who's putting in 49% of his field goals, is a major force. PG Ben Simmons, a major playmaker, is averaging 7.5 APG, 8.4 RPG, and 16.9 APG. SG J.J. Redick, who's averaging 17.3 PPG, is good on 40% of his three-point shots.
Other Factors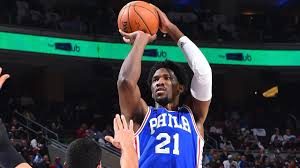 Boston has played and beaten the 76ers twice this season. The two teams met on Oct. 20 with the final being 102-92, and then they met on Nov 30 with the game ending 108-97. In terms of shooting percentages, these teams are fairly even. Philly is taking down about three more rebounds per game than Boston.
Our Boston Plays Philadelphia 2018 NBA Pick
Both teams should be well-rested, however, both will be dealing with a five-hour time difference and an extra-long travel day. The Celtics last played on Jan 6 and the 76ers on Jan. 5. Up to that point, Boston had a fairly intense schedule playing three games in four days, while Philly had played three over six. Considering all of the pros and cons and recent performances of each team and their head-to-head outcomes, our Boston plays Philadelphia 2018 NBA pick is the Celtics at -1.5. We are taking the under in this one.
Summary Celtics and 76ers Picks- Boston at -1.5 and under 208.5