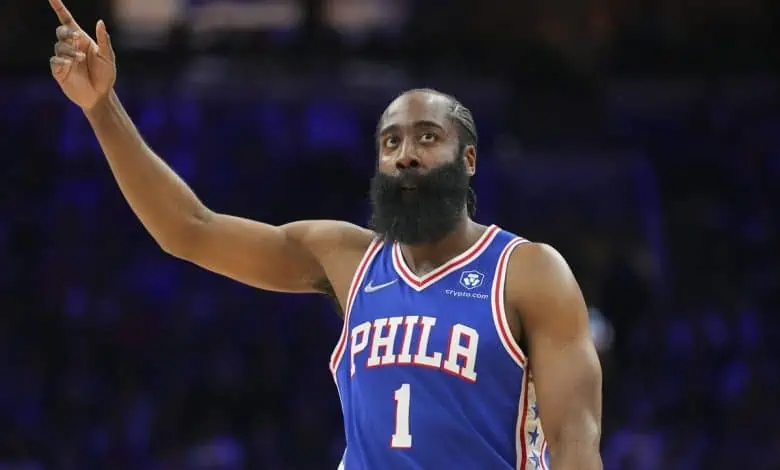 Injuries are the main topic heading into the Eastern Conference Second Round playoff matchup between the Philadelphia 76ers and Miami Heat.
The Sixers have a real big major loss with Joel Embiid not traveling to South Beach for the first two contests because of a broken orbital bone, and Philadelphia was just 6-8 without him during the regular season.
Miami has multiple nagging injuries, but they aren't as severe as the ones to the Philadelphia big man. Jimmy Butler (knee), Tyler Herro (illness), Max Strus (hamstring), and P.J. Tucker (calf) are all on the injury report but expected to play. Kyle Lowry (hamstring) is out, but the odds still have the Heat as -7.5 favorites.
Who Steps Up for Philly?
Embiid averaged 26.2 points and 11.3 rebounds per game as the Sixers eliminated Toronto 4-2 in their first-round series. Philadelphia had a 3-0 lead at one point in the first round, so the Raptors climbing back to make it somewhat competitive proved very costly.
Embiid was actually injured with under four minutes to play in Game 6, even though the 76ers were on their way to a 132-97 win, and many fans thought the superstar should have been out of the game.
What's done is done, and now the 76ers need to have somebody else step up in Embiid's absence. The most likely contender would be James Harden, who averaged just 19.0 ppg in the Toronto series. Harden has been option 1A for scoring on teams for most of his career, but Tobias Harris and Tyrese Maxey are apt contributors as well.
Heat Starting to Heal
Atlanta got hot in the postseason last year en route to an Eastern Conference Finals appearance, but the Heat dispelled them 4-1 in their first-round matchup, their one loss coming 111-110 in Game 3. Three of Miami's wins were by double digits, and although the Game 5 97-94 Heat win looked close, the team was also missing Butler and Lowry in that matchup.
Butler was stellar in the games he did play against the Hawks, going for 45 in Game 2 and 36 in Game 4 as he averaged 30.5 ppg in the series. Perhaps the unsung hero for Miami has been Victor Oladipo, though, as he had 23 points in the decisive Game 5 and had a +/- of +28 in Game 4.
76ers/Heat Betting Prediction
Philadelphia is definitely in a tough bind without Embiid, and the Sixers missing their best offensive weapon just allows Miami's #5 ranked defense to prey on the likes of Harden and Maxey. That perimeter defense of the Heat held Trae Young to just 15.4 ppg in the first round.
Even without Embiid, though, this is the playoffs, and the 7.5 spread is a lot of points. We might see a retro Harden performance, or Maxey could go off as he did for 38 in Game 1 of the 1st round.
The biggest thing, though, is we don't know how Doc Rivers will approach Embiid's absence – and neither does Miami. Pick Philadelphia +7.5.