Free Expert Sports Picks
NBA Picks
Atlanta Hawks at Milwaukee Bucks Game 5 Betting Prediction
The series between the Atlanta Hawks and Milwaukee Bucks are currently tied at 2-2, but a significant player has now been lost for Milwaukee.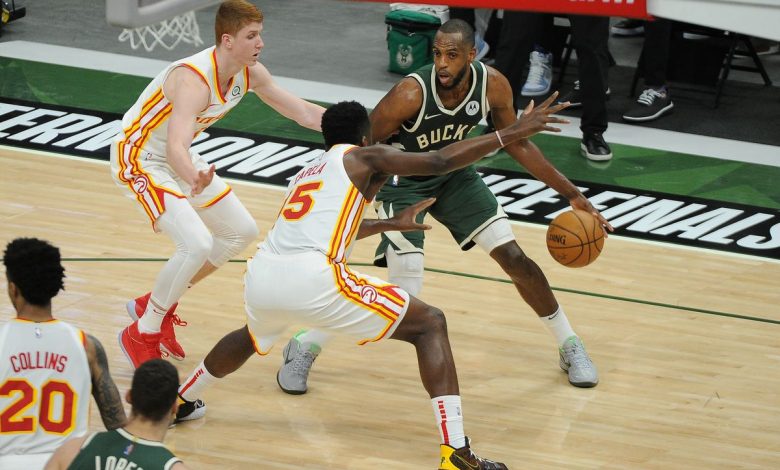 The Eastern Conference Finals series between the Atlanta Hawks and Milwaukee Bucks are currently tied at 2-2, but a significant player has now been lost for Milwaukee. PF Giannis Antetokounmpo has been downgraded to "doubtful" for Thursday's game, leaving the Bucks at a significant disadvantage. In Tuesday's loss, Antetokounmpo went down with a knee injury, and the Bucks offense couldn't recover, a problem they've suffered from for a while.
The Atlanta Hawks aren't doing great in terms of health either, as they have two players listed as "questionable" for Thursday's game, one of which is PG Trae Young. The offense is dictated and ran through Young, so if he's unable to play, the Hawks could be in trouble. Even in their second loss of the series, Young was responsible for 35-points; had he not been playing, the score would've been much worse than 113-102.
With both of these teams potentially being down prominent starters, Game 5 has become a tough game to call. Let's go over what both teams will need to do to get a win on Thursday.
If the Hawks are without Trae Young, Bogdanovic can facilitate the offense
Although there aren't many talents like Trae Young in the league, the Hawks will get their starting shooting guard on Thursday. Bogdan Bogdanovic is a great shooter, but he can also be the floor general if Trae Young is indeed out for Thursday's game. Through this series, Bogdanovic hasn't had the chance to play due to a knee injury. If he does suit up on Thursday, the Hawks will get a vital piece of their offense back.
Atlanta could also potentially be down C Clint Capela, who suffered an injury to his eye on Tuesday. That would eliminate a big man down low, responsible for guarding Milwaukee center Brook Lopez. Atlanta will need to come up with a strong defensive plan to keep the Bucks from driving down the lane and getting easy buckets without a big guy in the paint.
With Antetokounmpo out, it's time for the remaining Bucks to rely on themselves
This is the worst-case scenario for the Milwaukee Bucks, but they can better themselves by not focusing on the injury of their superstar but by elevating their game. We've seen what players like SG Khris Middleton are capable of, but we need to see that same effort from the remaining players.
Milwaukee spent good money bringing PG Jrue Holiday to the Bucks, and it's time that he earns it for them. He needs to be the player that he was with the New Orleans Pelicans, an offensive powerhouse capable of moving the ball and creating scoring opportunities. The Bucks will need every player on the roster to elevate themselves, and that's the most worrisome part.
Hawks vs Bucks, who should you take in Game 5? Hawks +2
It's strange that the Hawks are still the underdog considering their dominant 110-88 win against the Bucks just days ago. Even with the Bucks playing at home, it doesn't change the fact that Milwaukee has always relied too heavily on Antetokounmpo.
Look for the Hawks to take the 3-2 lead in this series before heading back to Atlanta on Saturday.