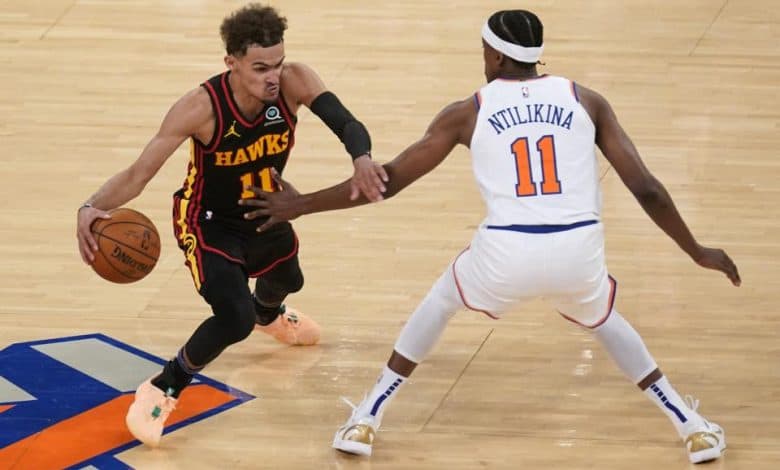 NBA fans will be fixated on Wednesday's Hawks at Knicks game 2 matchup, as Sunday's meeting between the two teams was arguably the best game of the postseason so far. The Hawks were able to secure a 107-105 victory as +1.5 road underdogs to take a 1-0 series lead.
New York couldn't pull out the win in game 1 despite a raucous crowd of 15,000+ amped up for the first playoff game at Madison Square Garden since 2013. The Knicks might have been overhyped for the meeting, having a lot of defensive lapses in the 4th quarter, specifically to Trae Young. After the 'newness' of the playoffs has subsided, do the Knicks have some value at -2 on Wednesday?
Can Hawks Do It Again
New York came out with a lot of momentum in game one, some would say too much as the Hawks ended up with a 24-16 lead after the first quarter. The Knicks did a nice job of fighting back, and had a 7-point lead at one point but played uncharacteristic defense down the stretch.
Young was spectacular in his postseason debut, going for 32 points and 10 assists. That came against a Knicks team that was great vs. the PG most of the season, and were 3rd in defensive efficiency overall. Bogdan Bogdanovic also continued his strong play with 18 points, and he finished the regular season with 20+ in five of the last six.
These teams were incredibly evenly matched in the series opener. Atlanta shot 47% from the floor on Sunday and New York 45%. Points in the paint were dead even at 50 and 50, and both teams only had 9 fast break points. What changes in the Hawks at Knicks game 2 pick?
New York Tries to Calm Down
The Knicks definitely had their chances on Sunday, and are looking at a 1-0 series lead if not for the Trae Young floater in the lane with 0.9 seconds left. At the very least game 1 goes to OT if the Knicks can stop Young in the game's final minute, but alas it was not the case.
New York was 25-12 at home this season, and that was with crowds that were nowhere near the excitement level as last time out. Game one was a special occasion – the return of the postseason to the Garden. With that out of their system, the Knicks have great value at just -2 in game two.
Julius Randle had a noticeable down game on Sunday, scoring just 15 points although he did haul in 12 boards. Randle averaged 24.1 ppg during the regular season, so look for him to up his game on Wednesday. Can New York really count on another 27 points off the bench from Alec Burks though – probably the main reason they kept Sunday's contest close.
Free Hawks at Knicks Game 2 Betting Pick
Most people would assume a bounce back game from the Knicks, and this series going as many games as possible would definitely be good for ratings. You might have to go contrarian here though. Sure the Knicks will calm their nerves more in game two, but Atlanta was also playing their first postseason since 2017. New York isn't the only team that the MSG crowd is firing up.
Hawks 112 – Knicks 113
Free Pick – Hawks +2