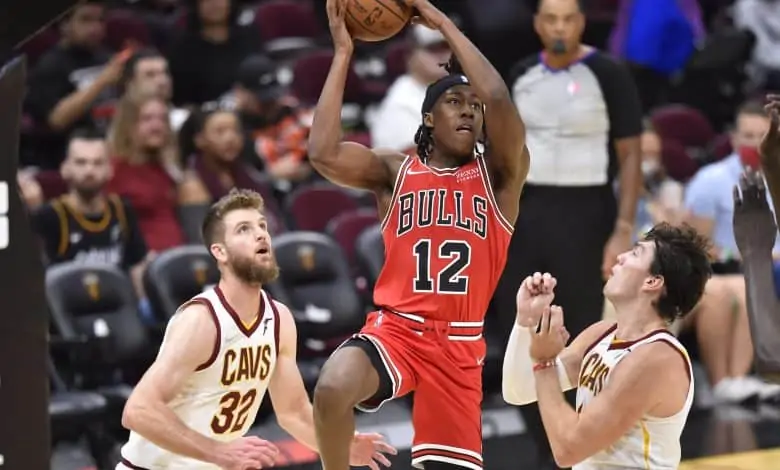 Injuries and absences are the them for Chicago as they head into the December 8th Bulls at Cavaliers matchup. DeMar DeRozan will be the most notable player out of the lineup for the Bulls in this meeting, but he's far from the only one.
It's kind of bad timing to be shorthanded for the Bulls, because the Cavs are actually playing well right now. Sure Cleveland has dropped two in a row, but by one point to Utah and then by just 8 to the Bucks playing on the back to back the next night. That followed a four game win streak, so the Cavs as -3 point favorites has some value.
Bulls Depth to Be Tested
DeMar DeRozan was a late scratch on Monday night following a positive test, and it looks like he could miss 10 days or more while in health and safety protocols (unless testing negative twice in 24 hours). DeRozan's absence will be huge as he was not only playing at an all-star level (26.4/5.3/4.1) but also MVP caliber.
Regardless of DeRozan's absence, the Bulls went on to beat Denver 109-97 on Monday as -2 point favorites. Zach LaVine had 32 points stepping into the forward spot, and rookie Ayo Dosunmu had solid contributions with 11 points, 6 rebounds, and 8 assists.
Chicago showed great depth in their win over the Nuggets, their third straight victory. Lonzo Ball and Nikola Vucevic both had 20 points and 10 rebounds as the Bulls also are trying to work through Coby White, Javonte Green, and Matt Thomas being on the COVID list while Alex Caruso is also out with a hamstring injury.
Cleveland Seems to Be Turning Things Around
The December 8th Bulls at Cavs matchup is a revenge game for Lauri Markkanen, who spent his first four seasons with Chicago before being sent away in a sign and trade this past offseason. Markkanen is a starter for Cleveland, averaging 14.6 points and 6.1 rebounds per game. All five Cavs starters are under 25 years old and former first round picks.
The Cavs play their third straight quality opponent on Wednesday night, following losses to the Jazz and Bucks. One thing Cleveland is going to have to do is try to contain Vucevic on the interior, as Rudy Gobert and Bobby Portis have 36 rebounds the last two games from the C position against the Cavs.
Darius Garland has stepped up in the absence of Collin Sexton being lost for the year with a knee injury. Garland had 30+ in back to back games before being held to 10 on 3 for 12 shooting vs. the Bucks (on the back to back). With Chicago being short on depth, the biggest x-factors in Wednesday night's game might be Cleveland veterans Kevin Love and Ricky Rubio coming off the bench.
December 8th Bulls at Cavs Pick
Chicago is still a very talented team at the top with LaVine, Ball, and Vucevic leading the way. Cleveland is young though and they can get out and run to test the Bulls' depth. Ultimately the Cavs look like they could be able to run away with this one considering how well they played against Utah and then Milwaukee on the back to back.
Cavaliers 108 – Bulls 99
Free Pick: Cleveland -3