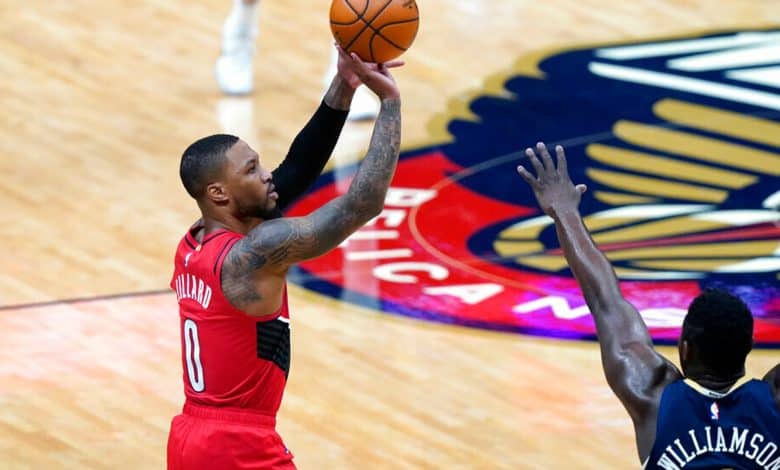 One of the expected closest games on the Tuesday NBA slate is the March 16th Pelicans at Trail Blazers pick. New Orleans has rattled off a couple big wins, but is still a +1.5 underdog when they visit Portland. The Trail Blazers are coming off a loss to 9-30 Minnesota, but are 4-2 overall in March.
The teams have only met once this season, a 126-124 Trail Blazers win in New Orleans as +4 point underdogs. Damian Lillard had 43 points and 16 assists in that meeting, while Zion Williamson paced the Pelicans with 36. Expect more of the same from the two superstars in the rematch.
New Orleans Exploding on Offense
Minnesota only has 9 wins on the season, but both Portland and New Orleans have lost to the T'Wolves in the past week. The Pelicans have bounced back from a 135-105 defeat against the Timberwolves with a 116-82 thumping of the Cavs and a 135-115 beating of the Clippers.
Is Portland ready for Williamson in the March 16th Pelicans at Trail Blazers pick? Portland has been fairly good vs. the PF position lately, but they've also been up against the likes of Marvin Bagley, Frank Kaminsky and Jarred Vanderbilt twice. Williamson had 23 points in 17 minutes vs. Cleveland and 27 in 32 minutes in a blowout vs. the Clippers. Robert Covington is a tough defender though.
Where Portland really struggles is with their back court defense, ranking 26th defensively vs. the PG and 30th vs. the SG. That should mean a big game for Lonzo Ball, who had 20/5/8 vs. the Clippers. The Pels are missing JJ Redick (heel) and Nickeil Alexander-Walker (ankle) at the SG position though, and Eric Bledsoe has been held to single digits in four straight.
Portland Getting Reinforcements
The Trail Blazers are 22-16 on the year, currently sitting in 6th place in the Western Conference. That's a pretty impressive feat considering they've been missing 26.7 ppg from CJ McCollum since January 16th with a foot injury. That changes on Tuesday, as McCollum has been given the go-ahead to return to game action.
Sure it's going to take a bit for McCollum to return to game form, but Portland can use a spark after dropping two of three since the all-star break. Their win also came against Minnesota, 125-121 on March 13th as -5 point favorites. What McCollum can do is ease some of the offensive load from Damian Lillard, although he doesn't seem to mind after hitting 30+ in 3 of the last 4.
Tuesday's game really comes down to Portland's post presence. Covington has been a solid defender, and Enes Kanter has been a rebounding machine since his minutes have been expanded. The Pelicans' Steven Adams kind of cancels Kanter out though, and ultimately these teams are just really evenly matched.
Free March 16th Pelicans at Trail Blazers Pick
Will McCollum's return throw the Portland rotation out of whack? Gary Trent, Jr. had been playing pretty well including 21 points in the loss to the T'Wolves on Sunday – but maybe he's even more of an asset coming off the bench? The Trail Blazers will be better with McCollum…eventually. New Orleans is just too tough of a matchup on the interior and perimeter on Tuesday night.
New Orleans 128 – Portland 120
Free Pick: Pelicans +1.5