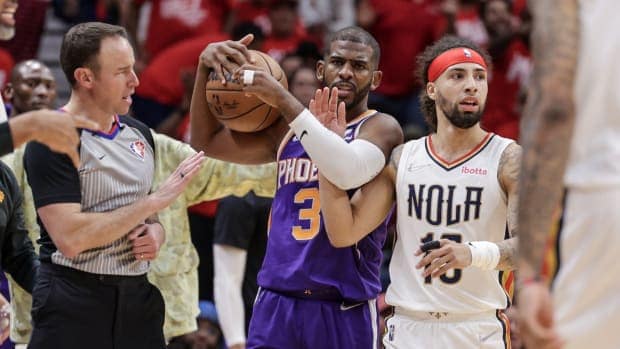 If recent trends continue heading into the Suns at Pelicans Game 6 betting matchup, we could have a Game 7 upcoming. These two teams have alternated wins and losses each contest this series, with Phoenix taking a 3-2 lead following their 112-97 win on Tuesday.
The Suns can close things out on Thursday night, but it's not going to be easy in front of a hostile crowd in the Big Easy. New Orleans was just 21-23 at Smoothie King Center during the regular season, but had a noticeable home court advantage in their 118-103 win in Game 4. Phoenix did take Game 3 114-111 in New Orleans, and are -2 point favorites for this meeting.
Suns Getting Flustered?
Phoenix probably never imagined themselves in a must win situation to avoid heading back to the Footprint Center for a Game 7. After all the Suns came into this series as the #1 overall seed in the NBA – and they're up against a team that had to win two play-in games just to get this point.
What the Suns have found is that New Orleans has come here to fight. Phoenix is in the driver's seat with two chances to get a victory to move on to Round 2, but there are signs that the team with the best record in the NBA is starting to wane. Chris Paul was noticeably fatigued on Tuesday from the pressure of the young New Orleans defense and was letting other guards bring the ball up the court in the 4th quarter of Game 5.
Make no mistake it's not all doom and gloom for Phoenix. They can still close out the series with a win in the Suns at Pelicans game 6 betting matchup and could possibly be getting Devin Booker (hamstring) back next round if/when they do advance. Paul may look tired, but he's still averaging 20.2 points and 12 assists this series and got some help with Mikal Bridges dropping 31 on Tuesday.
Pelicans Try to Extend
Thursday night marks a high pressure game for a young Pelicans team making the franchise's first playoff appearance since 2018, but at the same time New Orleans really has nothing to lose. Most people thought the Pelicans would be victims of a sweep (36-46 in the regular season) this series but New Orleans is on the verge of pushing a Game 7.
There have been four major keys to New Orleans getting to 3-2 in this series. The first has been Brandon Ingram who had gone for 30+ points in three straight games prior to dropping 22 in Tuesday's loss. CJ McCollum has also been a calm veteran presence with postseason experience that has averaged a productive 23.4 points, 7.4 rebounds, and 5.6 assists in the five games.
Another reason that New Orleans is on the verge of pushing a Game 7 with a win has been the presence of Jonas Valanciunas in the post. The big man has a 25, a 15, and a 14 rebound game this series and is averaging 15.4 points to go with 15.6 rebounds. Finally the youthful energy of rookies Alvarado and Herbert Jones is contagious and should get Thursday's crowd extremely fired up.
Free Suns at Pelicans Game 6 Pick
Bettors are split almost 50/50 in this game with the Pelicans getting +2 points at home. Phoenix is going to come out fired up in trying to end this series, but New Orleans keeps getting back up after what looks like a knockout blow. The energy is going to be electric at Smoothie King, which is going to wear down Phoenix even more.
Pick: New Orleans +2