NBA Pick: NBA Finals Game Three Golden State at Cleveland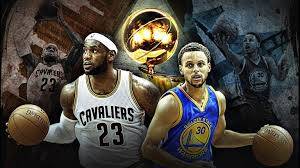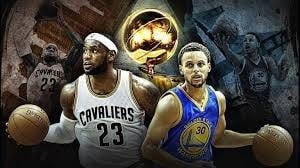 If there's ever a game that the Cleveland Cavaliers have to win, it is this one. The Cavs are back home for game three of the NBA Finals, and they are down two games to none to the Golden State Warriors. Cleveland had an easy time in their first three postseason series, but then they ran into a Warrior team has destroyed them in the first two games of this series. Golden State is favored tonight by either 3.5 or 4.5 points and the over/under comes in at 227. The bookmakers see Cleveland's return home as helping them be more competitive. Let's consider that idea amongst other things as we offer our Warriors play Cavaliers 2017 NBA Finals game 3 pick.
Series Thus Far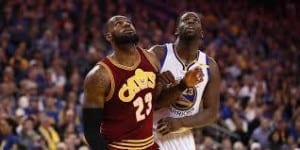 The Warriors hosted the first two games of the series with the opening game being played on Thursday. It was a clear cut victory for Golden State as they took down the Eastern Division champs and 2016 NBA champions. The final was 113-91. The second game, which was played on Sunday was more of the same for the Cavs but worse. The score was 132-113 the Warriors, and it was an onslaught. In that game, james had a triple double, scoring 29 points, making 14 assists and grabbing 111 rebounds. But it was not enough as together Kevin Durant and Stephen Curry scored a total of 65 points while grabbing 23 rebounds and making 17 assists. Durant, Draymond Green and Klay Thomas each hot 50% of their threes or better.
Important Players

You could say that James is the most important player on the court, but the fact is he's not. We think the most important guy playing in this game is the rest of the Cavalier squad. It's true that Kevin Love played well in game two, but he and the rest of the Cleveland team were not only outscored but massively out rebounded and blocked. Defensively the Warriors were stoppers in the last game.
For the Warriors, t's all about Kevin Durant, as he outperforms all Cav players in the paint. Curry has been top-notch in the game and Thompson had a very strong game. Solid rebounding and a tight D really helped Golden State run away with the game on Sunday. Might we expect more of the same tonihght.
Five Keys

We have five keys to this game and perhaps to the rest of this championship finals series. If the cavs don't win tonight, it's over.
Cleveland defense has to stop the Warriors
A solid game by Green and Thompson will help the Warriors a lot
James needs offensive help
Durant's dominance needs to continue
The home town crowd has a job to do here
Warriors Play Cavaliers 2017 NBA Finals Game 3 Pick
It has been a massacre thus far with the Warriors humiliating the Cavs. We don't expect humiliation tonight for Cleveland, but we do think that they will lose by around six. With that in mind, for our Warriors play Cavaliers 2017 NBA Finals game 3 pick, we take Golden State at -3.5 and for -110. We also like the under at 227 points and listed at -107. The game will be played at 9:00 p.m.E.T. tonight.
Warriors Play Cavaliers 2017 NBA Finals Game 3 Pick: Golden State at -3.5 and under 227 for -107