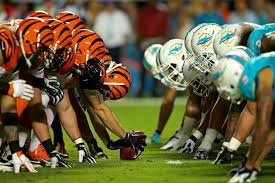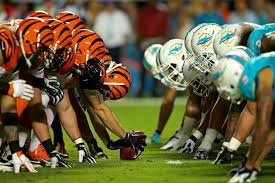 Two third place AFC teams play tonight in Thursday Night Football. Tonight's Miami Dolphins play Cincinnati Bengals free NFL pick  offers interesting challenges. The Fins, like their opponents, are 1-3. Miami is third in the AFC East while Cincinnati is third in the AFC North. The Dolphins' offense is fair to midland as is their D. The Bengals' offense has been lackluster, while their defense has been inefficient. Tonight's visitors won at home, while tonight's hone team won on the road.
Miami Offense vs. Bengals D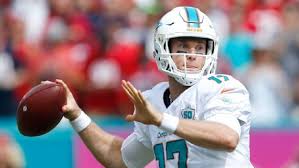 Miami comes into Cincinnati relatively healthy. This is always good news, especially after a short week. What Miami needs this week s for QB Ryan Tannehill (64.6 COMP%, 5 TDs, 4 INTs, 6 Sacks) to step up and utilize his passing chops. He needs to show better judgment and stay away from both the pick and sack. One big concern is that WR Jarvis Landry (24 REC, 314 YDs, 13.1 AVG, 1 TD) is listed as questionable. He's a game-time decision. If he does play, Landry could be a major asset. The Dolphin running game has been nonexistent. The leading rusher is Tannehill who has total 54 yards on 12 attempts for 13.1 yards per attempt average. It should be noted that RB Kenyan Drake (11 ATT,49 YDs, 4.5 AVG, 1 TD) has a decent per rush average, but needs to chew up more yards.
There's good news for the Dolphins as the Bengals will be without their best corner, Dre Kirkpatrick. Cincinnati is allowing 25.0 PPG. The Bengal D has four sacks, 18 PD, two picks, and three forced fumbles. DE Will Clarke, who has two of the four sacks, has played well as has LB Karlos Dansby. Dansby leads the club in tackles with 22, solo tackles at 14, and tackles for a loss with three. He's also recovered a fumble and defended two passes. There is some good news on defense in that linebacker Vontaze Burfict returns tonight after serving a three-game suspension. He's a major tackler and stopper. Still, the Bengal defensive squad is thin.
Cincinnati Offense vs. Fins Defense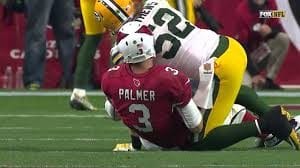 If Tannehill needs to do more for Miami, Bengal QB Andy Dalton (65.2 COMP%, 2 TDs, 2 INTs, 12 Sacks) needs to undergo a major transformation for his team. Dalton is spending too much time running away from opponent defenses and lying on the ground. Two complicating factors are TE Tyler Eifert's preseason injury, which will probably once again keep him out of the game, and the Bengals' top WR A.J. Green's personal issues, which may result in him missing the game. He's questionable. WR Brandon LaFell (9 REC, 164 YDs, 18.2 AVG, 0 TDs) is capable of making a big play or two. RB Jeremy Hill (37 ATT, 150 YDs, 4.1 AVG, 3 TDs) is this team's major offensive force. He could have a big night.
The Dolphins must bring their A game against Hill. The team comes in with 12 TFL, five forced fumbles, and three recovered. Those are fine stats. They also have six sacks. 12 PD, and one INT. There's a major question mark on D, as safety Reshad Jones (19 SOLO TCKL, 31TACKL, 0.5 Sacks, 4 TFL) may not play due to a knee issue. However, DT Ndamukong Suh (10 SOLO TCKL, 22 TCKL. 2.5 Sacks, 1 TFL) will be ready to go. The unit is allowing 22.3 PPG. They should be able to handle the Bengals.
Miami Dolphins Play Cincinnati Bengals Free NFL Pick
Our Miami Dolphins Play Cincinnati Bengals free NFL pick  has the Bengals favored at -9.5. I think this game will be closer than some think. Both QBs have underperformed, but the Dolphin defense has the potential to take down Palmer numerous times. Our Miami Dolphins Play Cincinnati Bengals free NFL pick says take the Dolphins at +9.5. The game will be played at Boon Stadium with kickoff at 8:25.
Miami Dolphins Play Cincinnati Bengals Free NFL Pick : Miami at +9.5