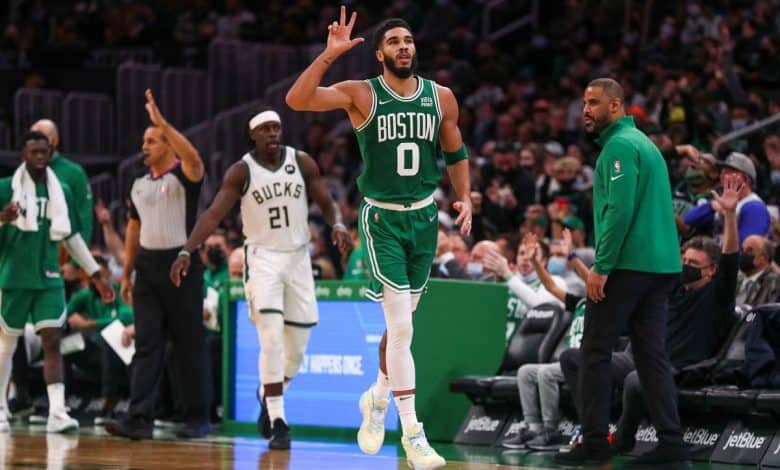 It's an elimination game on Sunday at TD Garden in the Bucks at Celtics Game 7 betting matchup. Both teams have flipped the script the last two contests, with Milwaukee winning on the road in Game 5 and Boston saving their season with a 108-95 victory on Friday at Fiserv Forum as +1.5 underdogs.
These two teams have alternated wins and losses every game this series which would mean the defending champ Bucks are due for the victory in Game 7. Boston is still a -5 point favorite though, and although home court is an advantage the Celtics are just 1-2 at TD Garden this round.
Champs on the Ropes
Milwaukee was in a great spot heading into Friday night up 3-2 and with the chance to close out Boston at home. The Bucks had stolen back home court with a 110-107 victory on the road in Game 5 but let the Celtics win Game 6 108-95 and now we head to Boston for an elimination game.
One of the Bucks' biggest downfalls in Game 6 was shooting just 7-29 from three point range (24%). Otherwise Giannis Antetokounmpo was once again stellar with 44 points, 20 rebounds, and 6 assists and that has the former MVP's numbers up to 35.3/13.8/6.8 for the series and yet things are just 3-3. Jrue Holiday added 17 on Friday, but he's scored 24+ in the Bucks' three wins this series.
Antetokounmpo has been great regardless of where the games have been played this series, as he scored 40 in Game 5 at TD Garden and had a 24/13/12 triple-double in the series opener. Are those type of performances alone enough to make the Bucks +5 look like the play?
Boston In a Good Spot
There are some that would say Boston has been the far better team this series despite things being tied up 3-3. The Bucks have a 2-point and a 3-point win in the Semifinals, but the Celtics' victories have come by 23, 8, and 13.
The Celtics really haven't had an answer for Antetokounmpo, but Jayson Tatum is going blow-for-blow with the former MVP. Tatum dropped a playoff-high 46 points on Friday night on 17-32 from the floor and 7-15 from beyond the arc. He's having an official coming out party averaging 28.3 ppg this series, a number that is down a bit from a 10-point outing in the Game 3 loss in Milwaukee. Tatum has 30+ in three straight since then.
Boston may have more depth heading into the Bucks at Celtics Game 6 matchup. While Milwaukee seems to live and die by how Holiday performs, the C's got 20+ points from both Jaylen Brown and Marcus Smart in Friday's win. The Celtics may also bring Robert Williams III (questionable – knee) in for some minutes in this do-or-die game.
Free Bucks at Celtics Game 7 Betting Pick
The Bucks have their backs against the wall in a high pressure situation but they also have a championship mentality. Boston has looked dominant at times this series, even blowing a 14-point lead in their Game 5 loss. Breaking this one down though, +5 points just seems like too many, especially with Milwaukee due for the win in this alternating win/loss trend.
Free Pick: Milwaukee Bucks +5