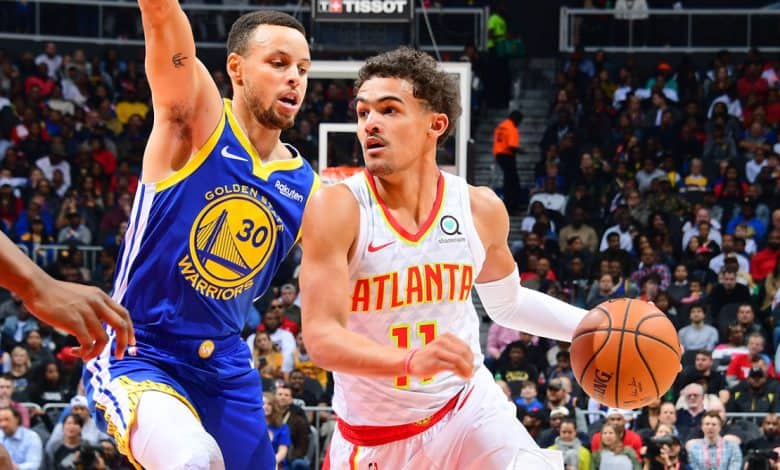 The April 4th Warriors at Hawks matchup looks like a close one. Both teams have battled injuries for the better part of the 2021 season, but are in the hunt. Atlanta sits in the 6 spot in the Eastern Conference and are riding a two game win streak. Golden State is 2 GB from the 8 seed in the West, but have now dropped two in a row.
One would think Atlanta has an edge being at home and boasting a couple wins lately, but oddsmakers are still calling this a PK (down from ATL +1.5). Steph Curry and Trae Young both sat out in their respective Friday games, and their uncertainty could be the driving force behind this toss up line.
Warriors In No Position to Be a PK
The fact that Golden State opened the April 4th Warriors at Hawks game is dumbfounding. Sure GSW was shorthanded on Friday, but that's no excuse for a 130-77 loss vs. Toronto as +5 underdogs. Curry and Draymond Green missed that game, but the Raptors had lost 9 of 10 games prior.
Curry and Green could very well return vs. the Hawks (and the line would suggest so), but Golden State has still dropped 6 of their last 7 prior to that. Even with the veteran duo playing, a lot of these Warriors games aren't even close lately including an 8 point loss to Memphis, 10 to Philadelphia, 22 to Sacramento and by 16 to these Hawks in a 108-124 loss on March 26th when GSW was a +7 point underdog playing on the back to back.
The NBA is weird, so it wouldn't be out of the realm of possibility for the Warriors to lose by 53 points on Friday and then beat a good Hawks team on Sunday, perhaps even by double digits. You really didn't see anything from the supporting cast on Friday that would make that a possibility.
Hawks Set to Lay a Dud?
Atlanta has their share of injuries too, but they won by 23 points against the Pelicans on Friday night as -1.5 favorites. New Orleans was without Zion Williamson, Brandon Ingram, and Lonzo Ball but that's still a dominant Hawks performance.
The Hawks won on Friday despite being on the back-to-back, despite being without Danilo Gallinari, Young, and John Collins to name a few, and despite being in the last tilt in an 8-game West Coast road swing. Sunday night's game is the first at home for Atlanta in the last 17 days, is that rush to get caught up on things the reason Atlanta isn't favored by a ton?
Sure Atlanta has been on a long road trip as of late, but the fact they went 4-4 over that span is a sign of a maturing squad. Plus, the Hawks are finding some depth with their big name players hurt/resting. Bogdan Bogdanovic has hit for 22+ points in three straight games, and Kevin Huerter added 24 in the win over New Orleans. Lou Williams also had 19 vs. the Pelicans, making this a deadly team even if shorthanded.
Free April 4th Warriors at Hawks Pick
Unfortunately this game is one where you can't read trends, past results, or stats as you play – you have to read the line. By all accounts Atlanta should be a 5-6 point favorite in this one, and the fact that they aren't means the play has to be on Golden State.
Warriors 113 – Hawks 109
Free Pick Warriors PK