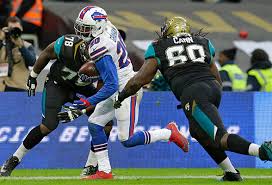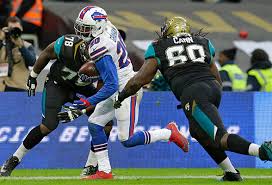 Our Jacksonville plays Buffalo NFL free pick is the first for Sunday, November 27, 2016. It's week 12 of the 2016 NFL and many teams are on the cusp of going one way or the other, while other clubs have lost all hope for a playoff spot. The Jacksonville Jaguars (2-8) are one team that has lost all hope of a postseason appearance. The Buffalo Bills (5-5) can still go one way or the other. They will need to run off a string of wins to have even a chance at a wild card.
The Jacksonville Jags have two wins. In both, they won by three points of less against the Colts and Bears. They come to Buffalo with a five-game losing streak. Losses include Oakland (33-16), Tennessee (36-22), and Kansas City (19-14). Over the past two weeks, they lost to Houston 24-21 and Detroit 26-19. Jacksonville is in last place in the AFC South.
The Buffalo Bills started the season out looking pretty good. They went 4-2. Last week they beat the Bengals 16-12. That stopped a three-game losing streak that included losses to the Dolphins 28-25, Patriots 41-25, and Seahawks 31-25. The big question is are they back on track?
Jacksonville Offense vs. Bills Defense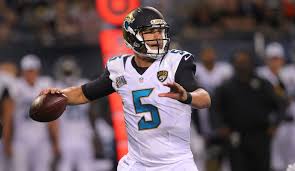 The Jaguars are scoring a mere 19.3 PPG. Quarterback Blake Bortles (60.2 COMP%, 18 TDs, 13 INTs, 21 Sacks) has been inconsistent. His frontline has had problems protecting him. WR Allen Robinson (51 REC, 567 YDs, 11.1 AVG, 6 TDs) is the team's leading receiver. Bad news for the Jags as Julius Thomas, who has four TD receptions, will not play today. RBs Chris Ivory and T.J. Yeldon anchor a running game that is good for less than 90 yards per game.
With 31 sacks and an equal number of TFL, the Bills D should have a good day against the Jags' frontline. Lorenzo Alexander (10 Sacks, 4 TFL, 3 FF), who leads the league in sacks, is questionable for today's game, but chances are he will play. There are more problems for Jacksonville's offense, as the Bills have eight interceptions and 48 PD. CBs Stephon Gillmore (4 INTs, 10 PD) and Nickell Robey-Coleman (2 INTs, 5 PD, 2 FF) are massive in the secondary. Teams are averaging 21.5 PPG against this squad.
Buffalo Offense vs. Jacksonville Defense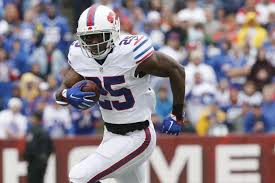 The Bills have a fairly productive offense that includes a solid rush attack. Both QB Tyrod Taylor (63 ATT, 401 YDs, 6.4 AVG, 4 TDs) and RB LeSean McCoy (138 ATT, 716 YDs, 5.2 AVG, 7 TDs) can pile up the yards. Taylor (61.4 COMP%, 10 TDs, 4 INTs, 25 Sacks) will be passing to WRs Marquise Goodwin (18 REC, 316 YDs, 17.6 AVG, 3 TDs) and Justin Hunter (6 REC, 71 YDs, 11, 8 AVG, 3 TDs). His group of receivers is depleted, but he still has enough to make some air offense happen.
The Jacksonville defense is allowing opponents 26.5 PPG. Although they have just 19 sacks, they have posted 42 TFL. Plus, they have caused eight FF. Their pass defense is weak, with only four picks and 21 passes defended. LB Paul Posluszny (85 TCKLs, 1.5 Sacks, 4 TFL, 1 PD, 1 INT) leads the defense, which has under-achieved this season. DE Yannick Ngakoue (5 Sacks, 1 TFL, 2 PD, 1 INT, 3 FF) has the potential to create some havoc.
Jacksonville Plays Buffalo NFL Free Pick
Our Jacksonville plays Buffalo NFL free pick heavily favors the Bills. Buffalo has McCoy back and ready to go and their defense is primed. The Jaguars are dealing with some heavy injuries. Take the Bills at -7.5. Take it now, some books have them at -9.0, but you can still get them at -7.5. The game will be played at 1 p.m., Sunday, November 27.
Jacksonville Plays Buffalo NFL Free Pick: Buffalo at -7.5