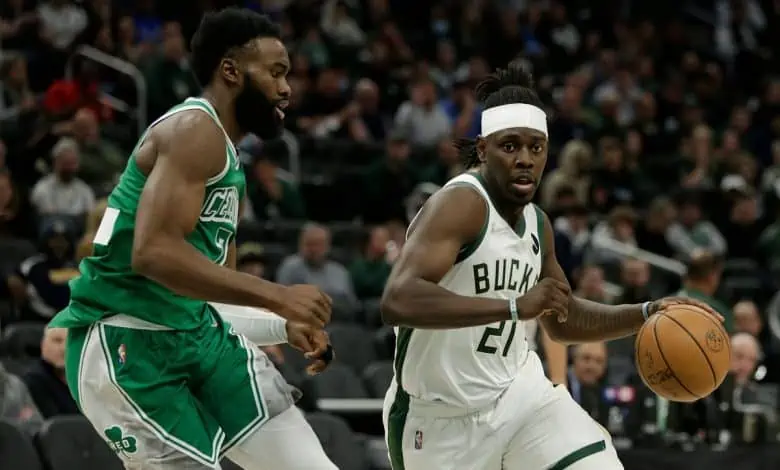 The NBA and television ratings would love to see the visitors force a Game 7 heading into Friday night's Celtics at Bucks Game 6 betting matchup. Milwaukee is heading back to Fiserv Forum up 3-2 in a series that has been very close so far. The C's have their backs against the wall after losing Game 5 at home, but they did get a road win in Game 4.
The Bucks are up 3-2 thanks to making up a 14-point deficit on the road in Game 5 as +5 point underdogs. There are some who would argue that despite being down a game, Boston has been the better team in this series, outscoring Milwaukee by 4 points and having a 15+ point average margin of victory. With the teams alternating wins and losses each game this series, Boston is due for the W, but are also +1.5 road underdogs on Friday night.
Boston Blew It
The Celtics have nobody to blame but themselves for being in an elimination situation on Friday night. Boston was outscored 33-21 in the critical 4th quarter en route to taking the 110-107 defeat on their own floor. It was the second time Boston has lost at TD Garden this series, also dropping the opener 101-89 as -5 point favorites.
Boston hasn't been able to find an answer for Giannis Antetokounmpo this series, as the former MVP is averaging 33.6 points, 12.6 rebounds, and 7 assists in the Eastern Conference Semifinals. Even so, the Celtics' Jayson Tatum has matched Antetokounmpo about as much as you can hope for over the past five games, especially the last two where he's averaged 32 points and 9.5 rebounds.
Ime Udoka's squad has their work cut out for them at Fiserv Forum where the Bucks are 30-16 on the year and in front of a raucous Friday night crowd. Even so, the Celtics took Game 4 in Milwaukee thanks to 30 points apiece from Tatum and Al Horford in a balanced attack that also saw Jaylen Brown and Marcus Smart chip in 18 points apiece. The C's are 6-0-1 ATS their last 7 as a road underdog.
Too Much Giannis?
Antetokounmpo has willed the Bucks to their last two wins in this series, going for 42 points in Game 3 and another 40 on Wednesday night. Antetokounmpo has averaged 37 points and 14.5 rebounds the last two games as Boston plays without Robert Williams III whose surgically repaired knee has acted up and remains questionable in the Celtics at Bucks Game 6 betting matchup.
For as great as Antetokounmpo has been in this semifinals round, two other Bucks made the crucial plays to help seal the Game 5 win. Bobby Portis picked up a loose ball and hit the go-ahead layup while Jrue Holiday made two key defensive plays on Smart in the last 8.1 seconds to seal the win.
Both Holiday and Portis have had their standout games this series. Holiday has averaged 21.8/7/6.4 this series while Portis had 14 points to go along with 15 rebounds on Wednesday. Portis' worst two games of the series have been the two at Fiserv Forum though, so maybe he gets too amped up.
Free Celtics at Bucks Game 6 Betting Preview
Do we get a Game 7? There's definitely nothing wrong with taking the Bucks -1.5 at home after they just won in Boston on Wednesday, but this series has alternated wins and losses and that leaves the Celtics up for a victory on Friday. The C's have arguably been the better of the two teams this series despite the 3-2 hole, so they get us to the elimination game.
Free Pick: Celtics +1.5