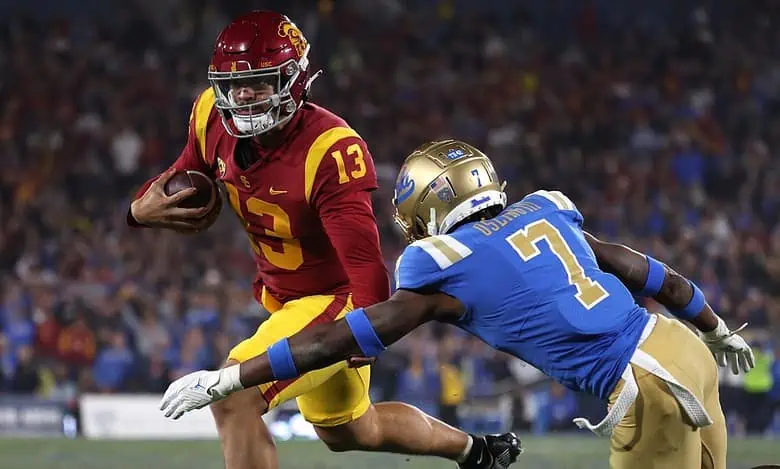 Crank up the Daft Punk because it's "One More Time" for the UCLA at USC betting matchup – at least while both teams are members of the Pac 12. Both the Bruins and Trojans are taking their talents to the Big Ten starting in the 2024 season, so Saturday afternoon's matchup does carry a little bit of extra spice to it.
It's been a disappointing year for both UCLA (6-4) and USC (7-4) as Washington and Oregon have been the darlings of the Pac 12 in its swan song season. Oddsmakers had a tough job setting a line for this matchup, but have made the Trojans -4.5 favorites here partly because they're at home but also because they've won six of the last eight in the head-to-head rivalry series.
Why UCLA Has Value at +4.5
The Bruins offense is atrocious – there's really no denying that even for the most ardent UCLA supporters. Chip Kelly's club comes into Saturday on a two game losing streak where they've lost 27-10 at Arizona and then 17-7 at home against Arizona State – not great scoring from a coach who is supposedly an offensive guru.
The good thing about the Bruins offense being so bad is that USC's defense is nearing embarrassing stature. The Trojans have allowed at least 40 points in five of their last seven and are one of the 15 worst teams in the country in total yards allowed (446.5), passing defense (264.3), rush yards given up (182.3), and scoring (34.6). That's a defense that can even make a struggling UCLA attack look good.
There are a couple big angles in taking the points here – one is that this is a rivalry game that has been decided by one score in four of their last six meetings. There's also some weird circumstances such as USC playing their last regular season game while also looking very disinterested before this in losing four of their last five and being a close 50-49 win over CAL (as -10.5 favorites) from being in a five game skid.
Why USC Has Value at -4.5
There's no lying, it takes some guts to lay the -4.5 with USC on Saturday afternoon. This Trojans defense is hard to watch, but as much as this is a "get right" matchup for a bad Bruins offense – it works the other way too.
Trojans QB Caleb Williams likely won't repeat as the Heisman Trophy winner in 2023, but he had no problem torching the Bruins defense last season to the tune of a 32/43 for 470 yard passing in a 48-45 Trojans win on the road.  There's probably no need for Williams to play in a Bowl Game to help his NFL prospects, so you bet on greatness in the finale for one of the best college football players of the last decade.
You like USC in this spot because it's not their offense responsible for the late season skid. The Trojans are a top 10 team in the country in total yards, passing yards, and scoring so really the onus is on UCLA to keep up with that pace.
Free Week 12 UCLA at USC Betting Pick
The Bruins have been playing spin the wheel at QB the past few weeks with Dante Moore, Ethan Garbers, and Collin Schlee all getting their time to run the offense. That's not a great strategy for success – unless you're playing the USC defense. Some other things overlooked from UCLA is that they also run for over 200 yards/game and have a top 10 total yards allowed defense so getting points here in what is likely an outright Bruins win is a gift.
Free Pick: UCLA +4.5