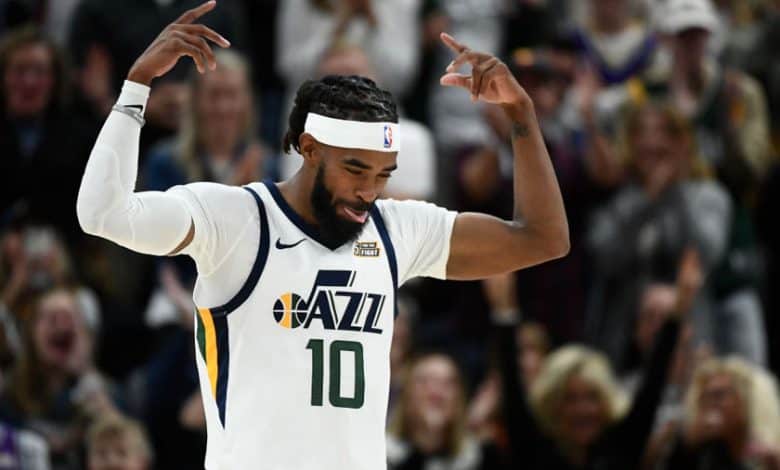 There's a whole lot going on for both teams in the February 2nd Nuggets at Jazz betting matchup. Denver is playing on 0 days rest but the team was down over 30 points at times in the 130-115 loss in Minnesota on Tuesday night which did allow them to be conservative with minutes for the back to back.
Utah is well rested after having not played since Sunday's 20 point loss also at the Target Center in Minneapolis, but there issue is injuries. The Jazz were already trying to tread water without Donovan Mitchell (concussion) and Rudy Gobert (calf) and then lost veteran Joe Ingles for the season after he tore his ACL against the Timberwolves. In a line that almost sees like a trap, the Jazz are still -3.5 favorites, which is up from the -2 open.
Does Jokic Sit?
One of the big reasons Denver might be the +3.5 underdog in the February 2nd Nuggets at Jazz betting matchup is because the status of Nikola Jokic could be up in the air. The Nuggets are not only playing in the back to back which may lead Mike Malone to sitting the big man, but he's also listed as questionable with a toe injury.
It's about the understatement of the century to say that Denver would miss Jokic if he can't go on Wednesday night in Salt Lake City. He had 21/16/8 in 30 minutes vs. the T'Wolves on Tuesday and is just 7 assists and 2 rebounds away from 10 straight triple-doubles.
What really makes a possible Jokic absence detrimental to the Nuggets is that they'd have a real advantage in the post in this game. Not only is Gobert out for Utah yet again, but backup C Hassan Whiteside has also been listed as out with a back ailment. That could've possibly opened the door for a big game from Denver backup center DeMarcus Cousins but he too is on the injury report with a foot issue. PF Aaron Gordon also has a hamstring issue and is questionable.
Who Steps Up for Utah?
The Jazz would get a colossal boost if Jokic ends up sitting on the back to back with the toe issue but he's still listed as just questionable. The fact that Utah is just a -3.5 favorite (with the line already moving up) would suggest that Denver's MVP candidate is less than 100%. If the Nuggets center does go, he's going to dominate a Utah interior missing both Gobert and Whiteside.
It isn't the end of the world for Utah if Jokic does play, as the Jazz have already gone 3-0 vs. the Nuggets this season. Jokic has 24/6/6, 26/21/11, and 25/15/14 in the three games against the Jazz this season but all losses – two of them by over a dozen points.
Regardless of who does or doesn't play for the Nuggets, somebody will have to step up for Utah and it won't be Ingles who is now out for the season (and possibly his career) after suffering an knee injury over the weekend. Ingles only averaged 7.2 ppg, but he provided quality minutes. The Jazz are also without their head coach Quin Snyder and Danuel House who are in protocols.
Free February 2nd Nuggets at Jazz Betting Preview
60% of the betting public is on Denver which makes sense considering they've won five of their last six while the Jazz have dropped five straight and are very shorthanded. The Nuggets could also come out flat wrapping up a six game road trip and the Jazz still have some quality scorers with Mike Conley and Bojan Bogdanovic both going for 20+ in Sunday's loss. The line says take Utah here.
Jazz 112 – Nuggets 101
Free Pick: Jazz -3.5