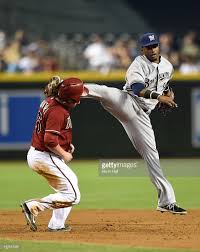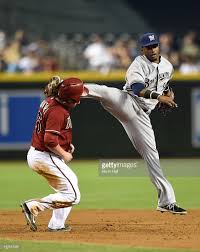 On Thursday night, May 25th, the Arizona Diamondbacks (29-19 Overall, 8-11 Away) come to Milwaukee to play the Brewers (25-21 Overall, 12-13 Home). The Diamondbacks have won three straight and are 8-2 for their last 10. On the other hand, Milwaukee has lost three in a row, and they are 6-4 for their last 10 games. This game kicks off a four-game weekend series between these two teams, as the Brewers hold onto a half-game lead in the NL Central and Arizona sits in second place in the NL West just two games behind the Colorado Rockies. Here's our Diamondbacks play Brewers 2017 MLB game one pick with Arizona -104 at and Milwaukee at -106. The totals bet at 8.5 runs is -115 over and -105 under.
Pitching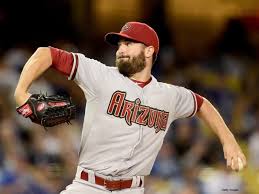 Left-hander Robbie Ray (3-3, 3.91 ERA) will start for the Diamondbacks. The last time he took the mound, he had a great outing pitching 7.2 scoreless innings as he guided his team to a 9-1 win over San Diego. In that game, he put away 14 of the first 15 batters he faced, giving up two hits and three walks while posting six strikeouts. That game lowered his ERA from 4.57 to 3.91. He's looking to build off that win and to help keep the Arizona Diamondbacks on a roll. But that won't be easy, as the Brewers have a starter going who has been very hot.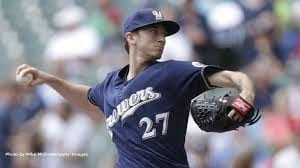 The month of May has been good so far for Milwaukee righty Zach Davies (5-2, 5.44 ERA) has had a rough April and a fine May. He began the season without a win in his first three starts and an ERA of 8.79. Since then, he's won five and lost none in six starts while posting a 3.94 ERA. Still, teams have hit him plenty, averaging .291. In that six-game stretch, he's walked 11 and struck out just 26. The explosive Brewer offense has helped him a lot.
Hitting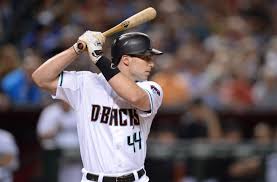 The Arizona Diamondbacks are hitting for average and distance. They bring a team batting average to this game of .268, and they've slugged 67 homeruns. They also have 87 doubles. Jake Lamb has 13 homers, 40 RBI, and a .287 BA. Paul Goldschmidt is batting .324 with 11 hmeruns and 37 RBI.
Although the Brewers' batting average is at .257, a good 11 points under that of the Diamondbacks, they bring plenty of power to the plate. They have 68 homers and 89 doubles. Eric Thames, with 13 homers, 26 RBI and a .302 BA is their primary offensive weapon. Batting .282, Travis Shaw has accumulated a team-best 34 RBI and 13 doubles as well as none round trippers.
Diamondbacks Play Brewers 2017 MLB Game One Pick
This game is a tough call, but we like the Brewers at home for a few reasons. We're looking for Davies to get solid support from his offense. We also expect Ray to struggle a bit. In our Diamondbacks play Brewers 2017 MLB game one pick, we like Milwaukee at -106 and the over 8.5 at -115. The first pitch will be tossed at 8:10 p.m. E.T.
Diamondbacks Play Brewers 2017 MLB Game One Pick: Brewers at -106 and over 8.5 at -115