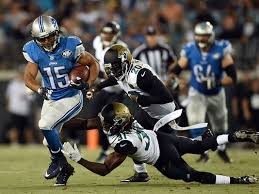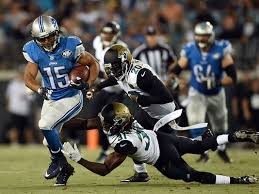 In this week 11 NFL free pick Jacksonville plays Detroit with a 1 p.m. kickoff in the Motor City. The Detroit Lions (5-4) are currently in first place in the NFC North, a spot that the slumping Vikings held for a good 10 weeks. Although Detroit and Minnesota possess identical records, the Lions have a better conference record, which puts them in the top spot. The Jacksonville Jaguars (2-7) sit in last place in the AFC South where they have been for most of the season. The Lions, if they can find consistency, could be playoff bound, while the Jags are looking towards next year.
The Jaguars have lost four of their last five. Their last win was on October 16. That was to the Chicago Bears with the final being 17-16. The four straight weeks of losses include 33-16 to Oakland, 36-22 to Tennessee, 19-14 to Kansas City, and 24-21 to Houston. The one thing you can say is against two of those four teams they lost to, the Jags kept it close.
The Lions have won four of their last five. All four wins were come from behind, fourth quarter efforts led by QB Matthew Stafford. On October 9, they beat the visiting Eagles 24-23. The next week, they took down the Rams 31-28, and then they beat the Redskins 20-17. On October 30, they travelled to Houston and lost to the Texans 20-13. Last week, they beat Minnesota 22-16 in OT.
Jacksonville Offense vs. Lions Offense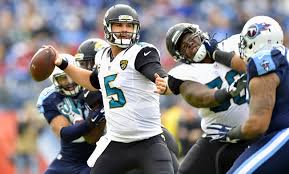 The Jags are averaging 19.3 PPG. Most of their offense utilizes the air game, as of their 357.1 total yards of offense per game, only 88.1 is on the ground. QB Blake Bortles (60.0 COMP%, 16 TDs, 11 INTs, 21 Sacks) is looking for consistency. WR Allen Robinson (48 REC, 549 YDs, 11.4 AVG, 5 TDs) is his top target. He's caught a touchdown pass in each of his last two games. TE Julius Thomas (27 REC, 269 YDs, 10.0 AVG, 4 TDs) could be an important outlet in this game.
T,J. Yeldon (79 ATT, 285 YDs, 3.6 AVG, 1 TD) leads Jacksonville's rush attack. The Jags' frontline has to do a better job for the running back to succeed. Also, Jacksonville must cut down on their turnovers. At this point they are -14 in turnover margin, which is last in the NFL.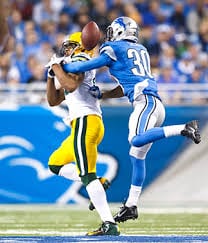 The Detroit defense is offering up an average of 22.9 PPG. In terms of yards, they are one of the worst when it comes to allowing quarterbacks and receivers to go down the field. Of the team's 379.1 YPG in offense allowed, 272.1 are in the air. The other 107.0 are ground yards. The overall defensive stats are not good for this team. Their 20 sacks are fairly solid, but their 23 TFL and four picks are nothing to write home about. At the same time, the team's 33 PD and eight forced fumbles decent.
The man to watch on defense is DE Kerry Hyder. He leads the team in sacks with seven and also has three TFL. Another important player is CB Darius Slay who has eight passes defended and one interception.
Detroit Offense vs. Jaguars Offense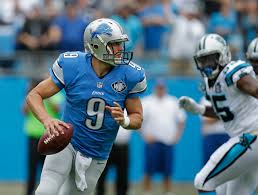 The Lions are averaging 22.8 PPG. When you compare their passing, rushing, and total offensive yards with those of the Jags, they are amazingly similar. This is one thing that makes this week 11 NFL free pick Jacksonville plays Detroit a bit tricky. A big difference between these two clubs can be found at quarterback. Lion QB Matthew Stafford (67.3 COMP%, 18 TDs, 5 INTs, 20 Sacks) is having a much better year than Bortles and much better fourth quarters.
Detroit emphasizes the pass attack. To that end, Marvin Jones (37 REC, 661 YDs, 17.9 AVG, 4 TDs) and Anquan Boldin (35 REC, 286 YDs, 8.2 AVG, 5 TDs) are two solid scoring outlets. Plus, RB Theo Riddick (75 ATT, 297 YDs, 4.0 AVG, 1 TD) is a dual threat with 35 receptions and four touchdowns.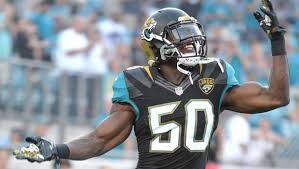 The Jaguars are giving up 26.6 PPG. In terms of yards, they are allowing 124.0 YPG on the ground and 215.0 in the air for a total of 339.0. The ground yards are too many, but the passing yards are better than average. The Jaguars have some quality players on defense.
These include LB Paul Posluszny (79 TCKL, 1.5 Sacks, 3 TFL, 1 PD, 1 INT), who leads the team in tackles and DE Yannick Ngakoue (15 TCKL, 4.0 Sacks, 1 TFL, 2 PD, 1 INT), who leads the team in forced fumbles with three. LB Telvin Smith, who has five of the team's 19 passes defended, is a solid player too. The overall stats for the team include 16 sacks, 33 TFL, and 19 PD. Two alarmingly low stats are the club's three interceptions and five forced fumbles with two recovered. This is a team that has not yet seen its defense gel.
Our Week 11 NFL Free Pick Jacksonville Plays Detroit
In our week 11 NFL free pick Jacksonville plays Detroit, we think it's important to note that all of Detroit's games this season have been decided by seven points or less and all wins have been by six points or less. This has been a fourth quarter team that pulls it out in the end. At the same time, the Jaguars, especially of late, have lost some very close games to some very decent teams, such as the Chiefs and Texans.
The spread is six points. We think, this time, the Lions will cover. We see them coming out strong at the start. At the same time, the Jags are in a losing spiral that may just increase in speed and intensity. Take the Lions at -6.0.
Our Week 11 NFL Free Pick Jacksonville Plays Detroit: Lions at -6.0