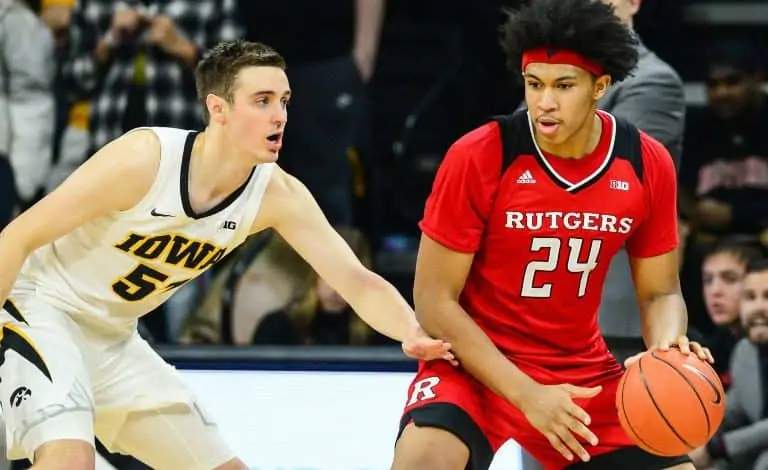 The Hawkeyes desperately need a win heading into the February 10th Rutgers at Iowa pick. Fran McCaffrey's team has lost two straight and 4 of the last 5 to drop 7 spots in the polls down to #15. Iowa is 10-2 at home this year, but both of those defeats have come over their last three.
The Scarlet Knights might be meeting Iowa at the perfect time, as Rutgers is streaking the other way with four straight victories. That includes a 74-70 victory at Indiana as +5.5 underdogs and 64-56 at Northwestern as -3.5 favorites in their last two road games. Iowa is a bigger test though, and Rutgers is a +6.5 underdog for Wednesday's tilt.
Can Rutgers Match Up Here?
This will be the second matchup of the year between these two teams, with Iowa notching a 77-75 win in New Jersey on January 6th, but as -3.5 favorites. The Hawkeyes were ranked #10 in the nation for that meeting, but they needed every one of Luka Garza's 25 points to get the W.
Rutgers seems to have a chip on their shoulder when they match up with Iowa and the Hawkeyes often get complacent vs. this Big Ten foe. The Scarlet Knights are just 2-3 over the last 5, but the defeats have come by 5 points or less. Rutgers also has a 16 and 14 point win over that span.
Rutgers had a very balanced attack in the first meeting with Iowa, as all five starters had at least 13 points. The Scarlet Knights are on a nice little run lately despite leading scorer Ron Harper, Jr. being held to 9 points in two of the last three. Geo Baker has picked up some slack scoring in double figures for four straight and 6'11" Myles Johnson has been a force in the paint with games of 13/14 and 14/12 over the last three.
Iowa a Risky Play?
The Hawkeyes will likely come firing out of the gates in the February 10th after dropping 4 of their last 5. It's not starting strong that's been the problem for the team lately though, it's finishing off games. The Hawkeyes have had a lead in each one of their four recent defeats.
Is CJ Fredrick that big for what Iowa wants to do? Fredrick had 19+ in two of three games before suffering a lower leg injury five games ago. The Hawkeyes are just 1-4 since. Luka Garza could also be starting to fatigue due to the load he's had to carry this season. Garza had put up 20+ in 11 of the first 13 games this season, but has been held below that threshold in three of the last five.
The Hawkeyes still have the #1 scoring team in the Big Ten, and 3rd in the entire country putting up 87 ppg. The Scarlet Knights have a top 5 defense in the conference, and the Hawkeyes are also last in that category giving up 74.7 ppg.
Free February 10th Rutgers at Iowa Pick
Rutgers is riding their longest winning streak since joining the Big Ten, and they're in a great spot getting +6.5 points on Wednesday. Iowa can't close out games, and Rutgers has played the Hawkeyes close in five straight meetings.
Iowa 67 – Rutgers 65
Free Pick: Rutgers +6.5