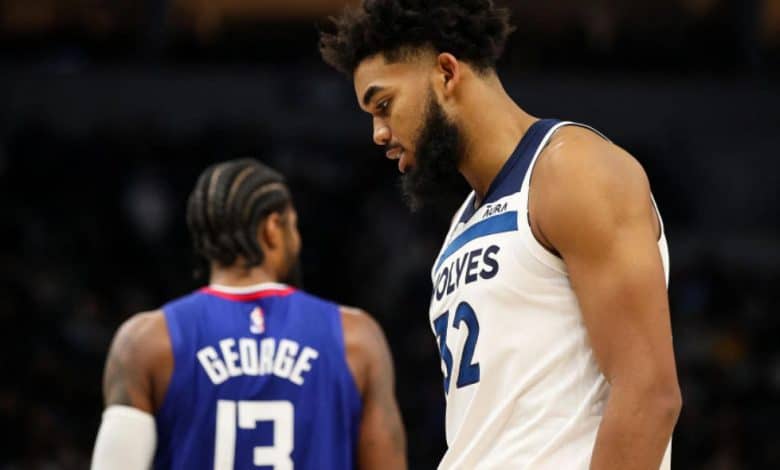 The NBA's new play-in tournament format kicks in for the April 12th Clippers at Timberwolves betting contest. Minnesota is looking for just their second full-scale postseason appearance since the 2004/05 season but even if they lose they'll have a chance to keep advancing in a Friday night game. The winner of Tuesday's game goes on to face #2 seed Memphis.
The Clippers (42-40) were four games back from Minnesota this year but even that is an impressive feat for Tyronn Lue considering he did not have Kawhi Leonard all season and Paul George played just 31 games due to battling an elbow injury. LAC did take three of four in the head to head matchups this season, including both games in the Twin Cities.
Clippers Rolled into Postseason
You never want to limp into the playoffs, which Minnesota kind of did with a 4-6 record over their last 10 games. Los Angeles on the other hand is steamrolling into the play-in tournament with a six game win streak. The Clippers should be fairly rested two, as their last two games were a relaxing 19-point victory over the Kings and then a 50-point beating of the Thunder on Sunday.
Leonard remains out, but George returned for five games and averaged 22.6/5.6/6.8. Norman Powell is also back for the Clippers and averaged 22 points in 22 minutes after returning from a foot injury. Minnesota ranked 24th in points allowed (113.3 ppg) but were 13th in efficiency during the regular season.
Minnesota Hopes Home Court Aids Them
Minnesota is at home for the April 12th Clippers at Timberwolves betting matchup, but they also lack a lot of the experience that L.A has after going to the Western Conference Finals a season ago. Some good news for the T'Wolves is that it looks like D'Angelo Russell will return to the lineup after being out the last two games with a non-COVID illness.
As always the big key for Minnesota on Tuesday night is Karl-Anthony Towns who has had his share of struggles over the years against the Clippers. Towns averaged 24.8/9.8 on the season, but had just 8 points and 8 rebounds in his last game vs. LAC – that was also way back in November though.
April 12th Clippers at Timberwolves Betting Info
Los Angeles has taken three of four from Minnesota this season yet are still +3 point underdogs in Wednesday night's matchup. There's definitely some value on the Clippers just because of their playoff experience, but the Target Center is also going to be rocking with the first postseason game since 2018. 58% of the public does like Los Angeles in this spot.
April 12th Clippers at Timberwolves Betting Pick
Two other key x-factors in this game are Minnesota's Anthony Edwards who averaged 21.3 ppg and Patrick Beverley, who spent the last four seasons with the Clippers. Edwards is just 20 years old, so will the moment of his first postseason game be too much? The Clippers are red hot down the stretch, and they have the capabilities to get this victory outright on Wednesday night.
Free Pick: Clippers +3