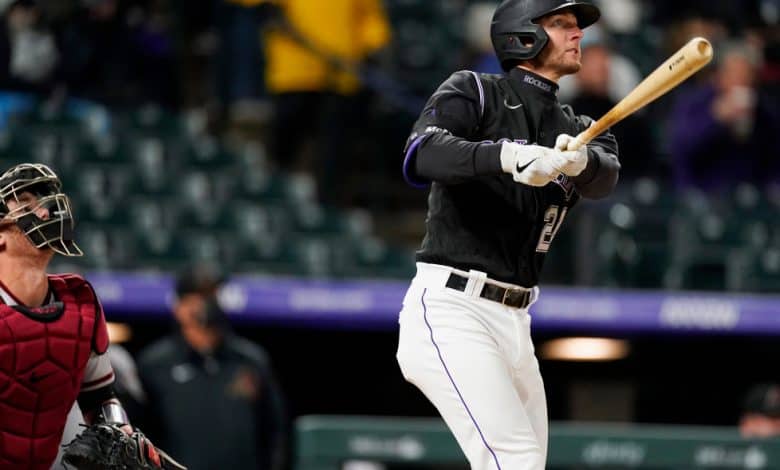 Will Coors Field live up to its expectations again in the April 7th Diamondbacks at Rockies matchup? These two teams combined for 18 runs in Tuesday's series opener, although 8 did come in extra innings. The teams plowed through 15 combined pitchers in that 13 inning affair, so a length outing from starters would be well received.
Arizona is a -120 road favorite in this tilt as Colorado is now mired in a four game losing streak. The D'Backs have now won two in a row, and send Madison Bumgarner to the mound hoping for a rebound game following a rough opener. Rockies starter Antonio Senzatela knows something about rough openers, boasting an 18.90 ERA after one game.
Rare Offensive Showing for Arizona
The Diamondbacks can use the week in Colorado for some stats padding, as their 10 runs on Tuesday night was just 2 shy of what they plated total in the first four games of the season. Ketel Marte had three hits in game one, and Stephen Vogt drove in three runs and also hit his 2nd HR of the year.
What looks like offensive firepower in the 10-8 Arizona win in game one has to be taken with a grain of salt since the score was just 5-5 at the end of 9 innings. MLB's runner on 2nd to start extra innings rule was on full display with the D'Backs outscoring Colorado 5-3 in four extra frames.
Both teams burned through the bullpen on Tuesday, but did have starters pitch into the 6th. Madison Bumgarner lasted just 4.0 IP in his first start of the year, giving up 2HR and 6ER total to the potent San Diego offense. Bumgarner threw 5.0 IP of 2-hit ball vs. Colorado (in Arizona) in his final start of 2020.
Colorado Needs a Pitching Bounce Back
Bumgarner had his shares of struggles in his first start of the year, but so did Colorado's Antonio Senzatela. The right-hander gave up 7ER in 3.1 IP at home to the Dodgers, interestingly enough with none of those runs coming from the long ball.
Senzatela was 5-3 last year with a 3.44 ERA, impressive numbers considering he pitched his home games at Coors Field. Senzatela didn't fare well in two starts vs. Arizona last season, allowing 5ER in 6.0 IP on August 12th and then 4ER in 4.0 IP on September 25th to wind down his season. Christian Walker is 7-14 with 2 HR vs. the Colorado starter and Ketel Marte is 10-20.
It's looking like Colorado is going to need some offense in the April 7th Diamondbacks at Rockies matchup. Then again, how much more can they provide than Tuesday's 8 runs? Ryan McMahon had 3 HRs in game one, but the combination of Trevor Story and Charlie Blackmon went 1-10. Blackmon has hit .356 (16-45) in his career vs. Bumgarner while Story has 5 HRs off the Arizona starter in 38 AB.
Free April 7th Diamondbacks at Rockies Pick
It's more likely that Bumgarner has a bounce back on Tuesday than Senzatela, as the Colorado starter has had his struggles vs. the Rockies in the past. There's decent pricing on both teams and the public is split 50/50, but the play has to be Arizona here.
Arizona 8 – Colorado 7 
Free Pick: Diamondbacks -120