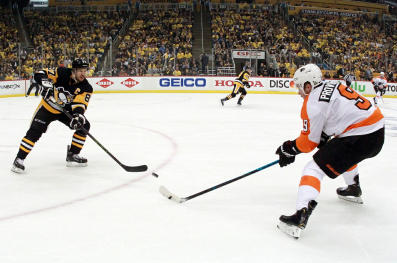 The Pittsburgh Penguins advancing to the quarterfinals of the NHL playoffs was all but a given as they went up 3-1 on the Flyers heading back to the PPG Paints Arena. Nobody told Philadelphia their season was over though as Dave Hakstol's team snagged a convincing 4-2 win in Game 5 as +225 underdogs. All of a sudden the Flyers are back home in the 4/22 NHL free pick looking to force a Game 7 back in the 'Burgh. Is Philadelphia on a roll or did they simply awake a sleeping giant?
Was Game 5 An Enigma for Pittsburgh?
Everybody felt that this series was basically a wrap after the Penguins took games 3 and 4 in Philadelphia. It seems that Pittsburgh players thought so too after dropping a 4-2 contest at home on Friday. The big question heading into the 4/22 NHL free pick is if the Penguins simply got complacent in that loss, or if Philadelphia has some real momentum going back at home? It definitely doesn't help the Penguins cause that 98 point scorer Evgeni Malkin could miss Game 6 after getting tangled up with Flyers C Jori Lehtera in Game 5. Malkin has 5 points through 5 games this series including 3 goals. To say his loss would be huge is an understatement.
Yes the Penguins still have Sidney Crosby (10 points this series including a Game 1 hat trick) but a more underrated injury to consider before Sunday's game is that of his line mate RW Patric Hornqvist who has missed the last two games with an upper body injury. He's supposedly back on the ice today which is a huge advantage for the Penguins. The elephant in the room no matter who plays is still if Matt Murray is a liability in goal. He hasn't faced more than 27 shots in any game this series yet here we are with a chance at going back to Pittsburgh for a Game 7.
Can the Flyers Win at Home?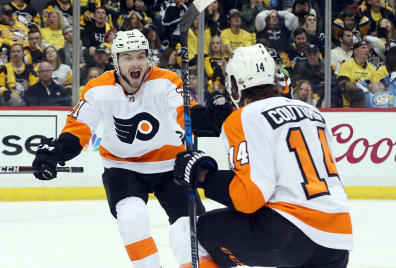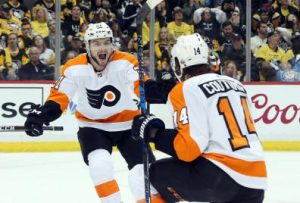 We said that this felt like a 7 game series after the Flyers stole Game 2 with a 5-1 victory. This came after a 0-7 blowout win by the Penguins in Game 1. Of course then all Philadelphia did was drop games 3 and 4 at home only to capture an insane 4-2 win on the road on Friday. The 4/22 NHL free pick could go either way back at the Wells Fargo Center but oddsmakers have still set the line at PIT -160, which is also understandable. The Flyers were 22-15-3 at home this year but then again the playoffs are a totally different animal.
To say that having Malkin out is going to be an advantage to Philly goaltender Michael Neuvirth is like saying that Bill Gates is 'well off' financially. Coach Hakstol is going with Neuvirth this afternoon in lieu of Brian Elliott who has yielded 14 goals so far in this series. It's never ideal to be going with your backup net minder in a game that could end your season, but that's where Philly is at right now. If Sean Couturier (4 points this series) could get some help from Wayne Simmonds (2 points), Jakub Voracek (3 points) and others it would take a lot of the stress off the Philly goaltender.
4/22 NHL Free Pick Betting
We know that Pittsburgh is the better team overall heading into Sunday's contest so deciding which side to back comes down to how much you value home ice advantage and the loss of Evgeni Malkin. Do you rate this game as the proverbial toss up? In that case we know the NHL would love a Game 7 back in Pittsburgh. The fact that the Flyers lost both games on their home ice in this series isn't ideal, especially considering that the Penguins were also 2-0 there during the regular season by a combined score of 10-3. All the numbers are pointing at the Pens, especially with Hornqvist back in the lineup. That being said the value is on the home team this afternoon.
Free Pick: Philadelphia Flyers +140