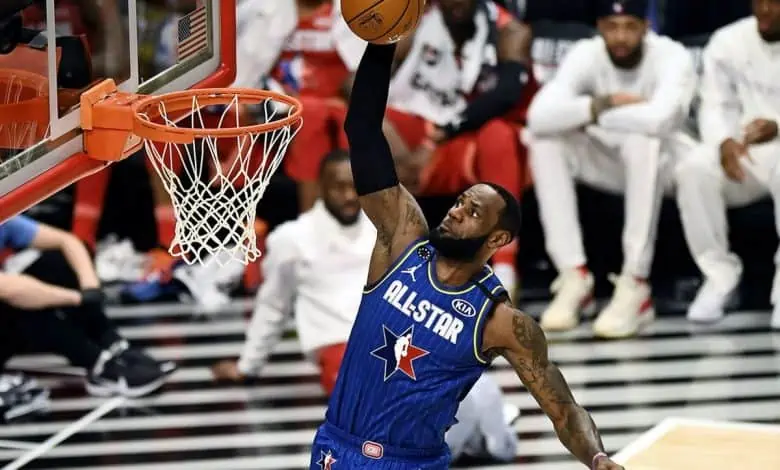 The NBA All-Star Game features Team Lebron versus Team Durant in a matchup of the NBA's best players on Sunday night. Both teams are stacked with talent, with Vegas giving Team Lebron a slight edge.
After garnering the most votes from their respective conferences, LeBron James and Kevin Durant are the team captains. For the fifth year in a row, the exhibition game breaks away from the traditional Eastern vs. Western Conference format for a draft process from the pool of 22 players voted in the All-Star field.
Sunday's tipoff is at 8 p.m. EST inside the Rocket Mortgage Fieldhouse in Cleveland, OH. Team LeBron is a 5.5-point favorite over Team Durant, and the over-under total is 320.5 points.
Team LeBron
Monty Williams, head coach of the Pheonix Suns, is the head coach for Team LeBron. Joining LeBron is the starting lineup alongside him are Milwaukee Bucks forward Giannis Antetokoumpo, Golden State Warriors guard Steph Curry, Denver Nuggets center Nikola Jokic, and Chicago Bulls forward DeMar DeRozan. Team LeBron is equipped with nine past MVP award winners.
Team LeBron's bench is also stacked with the likes of Dallas Mavericks guard Luka Doncic, Phoenix Suns guard Chris Paul, Miami Heat forward Jimmy Butler, and Utah Jazz guard Donovan Mitchell. Many analysts feel Team LeBron's bench is evenly matched with Team Durants.
Cavaliers center Jarrett Allen replaced the injured Philadelphia 76ers guard James Harden for Team LeBron.
Team Durant
Team Durant will be coached by Miami Heat head man Erik Spoelstra. Kevin Durant won't be suiting up for the game, sidelined with a sprained MCL in his left knee he suffered in mid-January. The starting five for Team Durant will be 76ers center Joel Embiid, Memphis Grizzles guard Ja Morant, Boston Celtics forward Jayson Tatum, Atlanta Hawks guard Trae Young, and Warriors forward Andrew Wiggins.
The reserves for Team Durant include Suns guard Devin Booker, Jazz center Rudy Gobert, Bulls guard Zach Lavine, and Minnesota Timberwolves center Karl-Anthony Towns.
LaMelo Ball takes the place of the injured Durant, and Dejonte Murray replaced the injured Draymond Green.
The Picks are In
LeBron James has won the All-Star Game the last four years the format has been switched to a fantasy format. James is 3-1 against the spread during that time. A return to Cleveland adds even more emphasis for Team LeBron to show out, and the lineup advantages give a big edge to LeBron and company.
As is tradition with these entertaining contests, don't expect a lot of effort on the defensive end and both lineups to light up the scoreboard. Last year's blowout combined for 320 points, and we like Sunday's showdown should surpass that total.
The MVP of the contest will likely come from the winning team, and it seems fitting that James would take home the honor in his home state and the town he began his Hall of Fame career. James isn't the betting favorite that goes to his teammate Antetokounmpo (+450), but the future Hall of Famer is worth the value.
Betting Picks: Team LeBron -5.5, OVER 320.5, LeBron James MVP (+600)