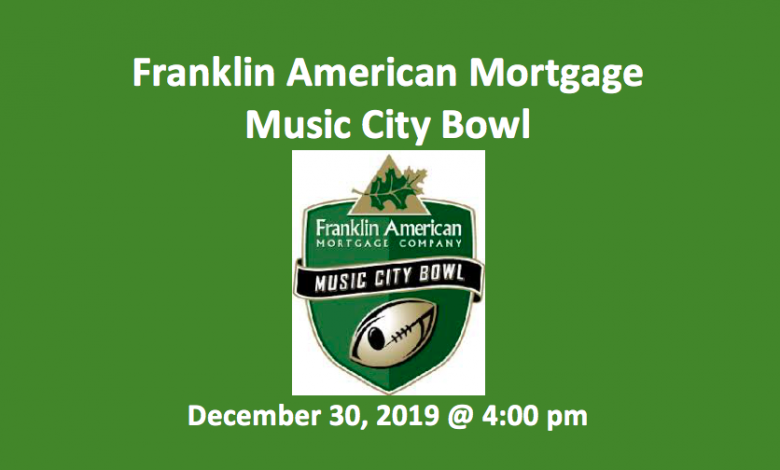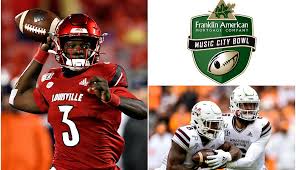 Our 2019 Music City Bowl pick notes that this is the second of four games being played on Monday, December 30. Along with this Music City Bowl prediction, we have the spread and totals on the other three games, including the Redbox Bowl at 4:00 pm ET and the First Responder Bowl with Western Kentucky and Western Michigan. For links to all of our bowl game predictions, all 41 games and 82 picks, see our college football bowl game hub page. The Franklin American Mortgage Music City Bowl will be played at 4 pm ET on Monday at Nissan Stadium in Nashville, TN. It features the Mississippi State Bulldogs vs. the Louisville Cardinals. MSST is -4.0 and the over/under is 63.0.
In the SEC West, the Mississippi State Bulldogs (6-6) were 3-5. They finished fifth in the division, five games out of first place, which was taken by the #1 LSU Tigers. The Louisville Cardinals (7-5) were 5-3 in the ACC Atlantic. They came in second to the 8-0 Clemson Tigers. The Tigers are ranked third in the nation.
2019 Music City Bowl Pick – Regular Season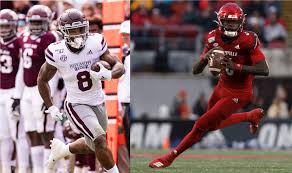 Mississippi State started the 2019 season by winning three of its first four games. Then came a streak of four losses, which included #7 Auburn and #2 LSU. In the last part of the season, the Bulldogs won three of their final four games with their only loss being to Alabama. The Crimson Tide easily defeated Mississippi State 38-7. The Bulldogs finished the season with a 21-20 win over Ole Miss.
Over their first six games, the Louisville Cardinals were 4-2. In their first game of the year, #9 Notre Dame beat the Cardinals 35-17. On October 12, Louisville beat #19 Wake Forest 62-59. The following week, #3 Clemson beat the Cardinals 45-10. Our 2019 Music City Bowl pick notes that starting with Clemson and through the five games that followed, the Cards were 3-3. They lost their final game 45-13 to Kentucky.
Mississippi State Bulldogs vs. Louisville Cardinals – Stats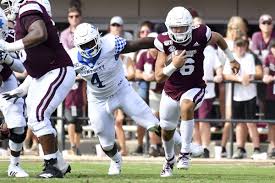 There is very little distance between each team's PF and PA. The Bulldogs are averaging 27 PPG and giving up 28.1 PPG. That is a PF/PA differential of -1.1. The Cardinals are averaging 32.7 PPG. They are allowing opponents 33.8. Once again, as it is with Mississippi State, this team's PF/PA differential stands at -1.1.
Of their 402.9 total offensive yards, the Bulldogs are racking up 226.9 YPG on the ground. Louisville is averaging 214.1 rushing YPG, while they are accumulating 228.0 YPG in passing. Defensively, Mississippi State is allowing a total of 389.9 YPG, while the Cardinals are giving up 446.3 YPG. Of concern for Louisville should be the 211.0 YPG they are yielding on the ground.
Mississippi State at Louisville – Players
The Bulldogs rely heavily on their rush attack to get the job done. Their defense is solid, but not spectacular. On the other hand, Louisville brings a more balanced attack. On defense, the Cardinals are weaker and not as deep.
Mississippi State Bulldogs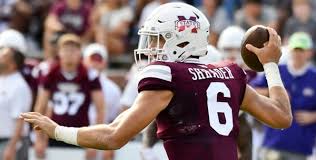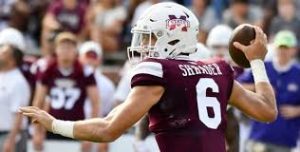 Although MSST has utilized two quarterbacks at various times this season, our 2019 Music City Bowl pick notes that their primary signal caller is freshman Garrett Shrader. Shrader has thrown eight TD passes and five picks. He's passed for 1,170 yards. Also, Shrader has run for an additional 587 yards and six scores, averaging 5.2 YPA. Junior Kylin Hill leads the ground unit. Three Bulldog receivers have 24-plus pass catches. Together, they've caught 11 TD passes. WR Osirus Mitchell has 27 receptions, five of which have gone for TDs.
The Bulldog D has forced 17 fumbles and recovered 12. In addition, they have 10 INTs, 44 PD, and 22 sacks. Consequently, their defense can be a game changer. Corner Cameron Dantzler has snagged two picks and defended eight passes. In addition, LB Errol Thompson leads the team with 84 total tackles, while safety Jaquarius Jandrews tops MSST with 42 solo bring downs.
Louisville Cardinals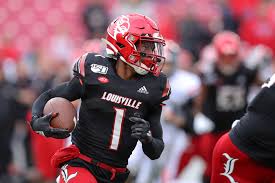 Sophomore Micale Cunningham is completing 61.5% of his passes. He's thrown for 1,786 yards and 20 TDs. Cunningham has thrown only five picks. He has been sacked 21 times. As part of the ground attack, the QB has also rushed for 401 yards and six scores. His go-to receiver is sophomore Tutu Atwell. Over the course of the season, Atwell has caught 61 passes and crossed the goal line a dozen times. He has 1,129 receiving yards. RB Javian Hawkins leads the rush attack. On 241 attempts, he's gained 1,420 yards and scored eight times, averaging 5.9 YPA.
The Cardinals defense has seven interceptions, 45 PD, and 23 sacks. They have forced nine fumbles and recovered seven. LB Monty Montgomery has recorded five sacks. LB C.J. Avery leads the team with 56 solo tackles and 84 total tackles.
Five Keys to the Game
Our 2019 Music City Bowl pick offers the follow keys:
Look for points to be scored
Whoever has the ball last could win this game
Bulldog defense may be the difference
Cardinal attack is multifaceted and Cunningham is better QB
Can Louisville stop MSST rush attack?
Our 2019 Music City Bowl Pick
We do expect a lot of points to be scored in this contest. The fact is neither team has a very good defense. Our 2019 Music City Bowl pick is the over at 63.0. We also like Mississippi State at -4.0. We think their rushing game will persevere and their defense will slow down the Cardinals enough to win.
Music City Bowl Pick – Summary
Mississippi State Bulldogs at -4.0 and over 63.0