MLB Picks
Cubs Continue an Interesting Off-Season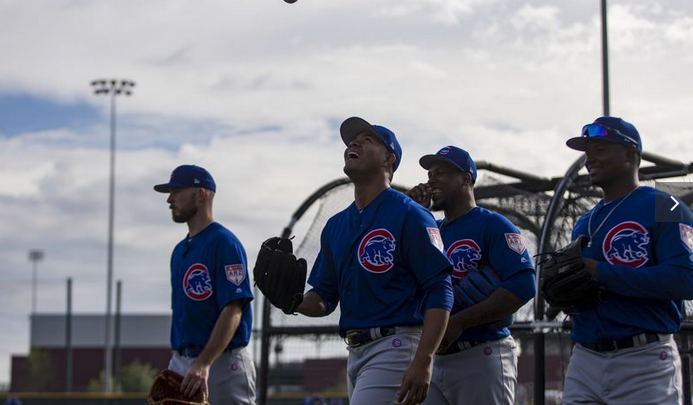 Fresh off one of the team's more interesting collapses in franchise history to end their 2018 campaign, the Chicago Cubs have continued to test the faith of their fanbase by making the news cycle every few weeks this off-season in a variety of ways for a variety of reasons. None of them good mind you. The MLB off-season is usually reserved for free agent signings and prospect speculation, but it seems the Cubs have decided to go a whole different direction.
It's a Bad Look
First, we had the very racist emails that popped up in the owners' inbox. While Joe Ricketts is not one of the owners of the Cubs, he is the father of all of them so, obviously, this was not a good look for the organization. Then, to make things worse, it was announced that there would be no more free televised games come 2020 as the franchise made a deal with the Sinclair Group to begin their own network. Not only will the games no longer be free, but the Sinclair Group is a notorious right-wing broadcaster, which looks even worse when coupled with those emails in a liberal town like Chicago. Then, there is Addison Russell. The shortstop is coming off a suspension for an investigation into domestic abuse allegations from his now ex-wife but remains with the team. Again, not a good look. So, what else could the northside club due to leave their fans scratching their heads? Why not invest in a company that promotes illegal sportsbooks.
Strange Bedfellows
While the Cubs partnering with a promoter of illegal sportsbooks isn't as bad a look as anything listed above, it isn't great as it is putting the team in an odd situation on multiple fronts. One has to wonder, why would a Major League Baseball team invest in a company that provides odds for offshore sportsbooks? Especially to the tune of a $17.5 million Series B funding round? This is exactly what happened, though, and it only leads to more questions.
The Action Network is the company in question, and its business is completely centered on sports betting content and providing tools and odds for their customers. This is a legit business to be in; however, they do provide the tools, odds, and other functionality that makes it easier to bet at the illegal offshore sportsbooks are available, just unregulated in the U.S. jurisdictions.
For example, you can customize your Action Network feed on an app and include the lines for just about every offshore sportsbook. The site and its contributors are often talking about their bets at offshore sites on social media such as Twitter and Facebook. They've also developed a feature called BetSync which links your account to any offshore sportsbook. Again, none of this is illegal. The Action Network is a legit business that provides a strong product and far be it from us to besmirch them. However, why would the Cubs go this route?
Nothing to Hide
For this funding round, Action Network has obviously stated that their money has largely come from places with ties to professional sports teams or the teams themselves. There is the Chicago Cubs, of course. There is Fertitta Capital, which is lead by the family who used to own the UFC and still holds ownership papers for Station Casinos in Nevada. Then, there is David Blitzer of Harris Blitzer Sports & Entertainment, which owns a stake in the Philadelphia 76ers and New Jersey Devils. We've seen plenty of partnerships between the sports world and the gambling world, but all of those have been within the newly regulated world of U.S. sports betting.
What's the Problem?
Whether or not The Action Network actually makes money from offshore sportsbooks is not really the point; although, how easy it is to access those sportsbooks from The Action Network can only lead one to believe that it does. Including those sportsbooks' odds isn't even too big of an issue either. However, it's the general message the Cubs are sending not only its fans but Major League Baseball. The Cubs are involved with illegal sports betting now, that's a fact, and the pro sports leagues such as the MLB have been saying a lot of things about betting, especially as of late.
For instance, during the federal court cases regarding the now-defunct federal sports betting ban, MLB argued that sports betting, if offered by New Jersey in an unregulated fashion, would create "irreparable harm" for their leagues. Not to mention that, for much of the past year, the MLB, NBA, and PGA Tour have all been lobbying aggressively for regulated markets to displace unregulated ones and The Action Network is not helping on that front. The MLB has been proposing integrity fees to be paid directly to them in any new state laws concerning sports betting. So now the question becomes: Why is the MLB entitled to "integrity fees" if they aren't doing everything in their power to promote legal books and shut down the illegal ones?
While the Cubs have a mountain of PR problems to overcome, this issue may fly underneath their fans' radar. However, the MLB may not be as forgiving.