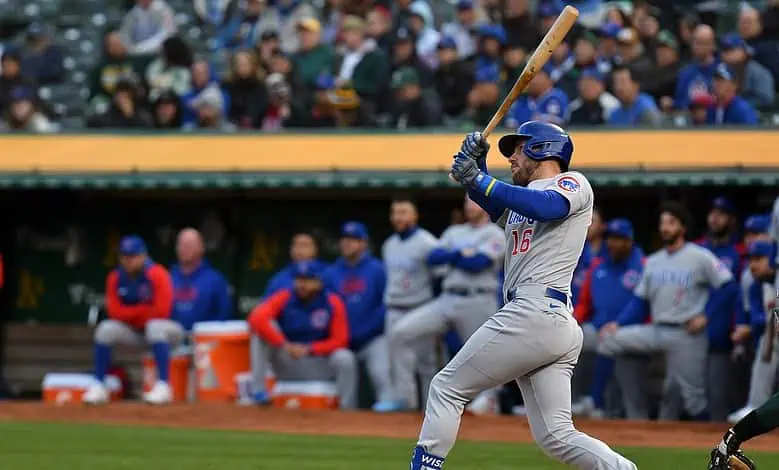 There's starting to be a buzz in the Windy City as Chicago has started off 10-6 and has a chance to go 5-1 on their West Coast road trip with a victory in the April 19th Cubs at A's betting matchup. The North Siders have dominated the first two games of the series, combining to outscore Oakland 14-1 so far.
There's not a ton of positive news for the A's right now, as they've lost six in a row and are the worst team in baseball at 3-15. It doesn't take an expert MLB handicapper to see that Chicago has all the value here not just on the -164 ML but also at +104 on the run line.
Why the Cubs Have Value
If you're playing the April 19th Cubs at A's betting matchup, it's worth it to up the risk to a run line play for a better +104 ROI. This series really hasn't been close so far, with Chicago having an offensive explosion in Monday's 10-1 win that cashed at just -128 followed by Tuesday's 4-0 win at -188, even though that game was a sweat with the Cubs getting all their runs in the top of the 8th.
Chicago is red hot right now, and although it is getaway day after a week on the West Coast the Cubs want to finish off this sweep. The first six batters in the Chicago lineup are dialed in, led by Patrick Wisdom who has 5 HRs the last 5 games, Cody Bellinger who was 5-5 on Monday, and Seiya Suzuki who is 5-7 with 3 BBs in this series.
The Cubs have the pitching edge on Wednesday by default, as Oakland is yet to name a starter for this matchup early Wednesday. Chicago would have that edge regardless though, as Justin Steele (2-0, 1.42 ERA) is up in the rotation coming off 7.0 IP of 3-hit ball on Friday at the Dodgers. Steele has allowed just 3 ER total in his three starts (19.0 IP).
Why the A's Have Value
You really put your Buddhist optimism through the ringer to find positives about this Oakland team. They don't win many (3-15) but when they have it's been very profitable such as the 8-4 win at Baltimore a week ago at +178, beating Cleveland 4-3 at the beginning of the month at +166, and topping Shohei Ohtani and the Angels in the season opener at +183.
The A's check in at just +140 for Wednesday's finale after being +172 on Tuesday and +119 in the opener. Monday's low line was because Chicago starter Hayden Wesneski lasted just 1.1 IP in his prior outing, but he went 7.0 IP giving up just 1 ER vs. Oakland.
Wednesday's line could be pointing at an Oakland upset, as +140 seems low with Chicago's Steele coming off a gem vs. the Dodgers in his most recent start. The Cubs have also gone 4-1 on their West Coast trip including taking two of three from Los Angeles – who they were 0-7 against last season. Maybe Chicago is already happy with this trip and looks ahead to going back home?
Free April 19th Cubs at A's Betting Pick
Is this an overthink spot where you could talk yourself into taking the A's? It's more of a gut punch to swing and miss on this atrocious team than to just pick the Cubs to take care of business, wrap up the sweep, and stay hot at the plate. That's the way you go here, even if it's not groundbreaking analysis.
Free Pick: Cubs -1.5 (+104)