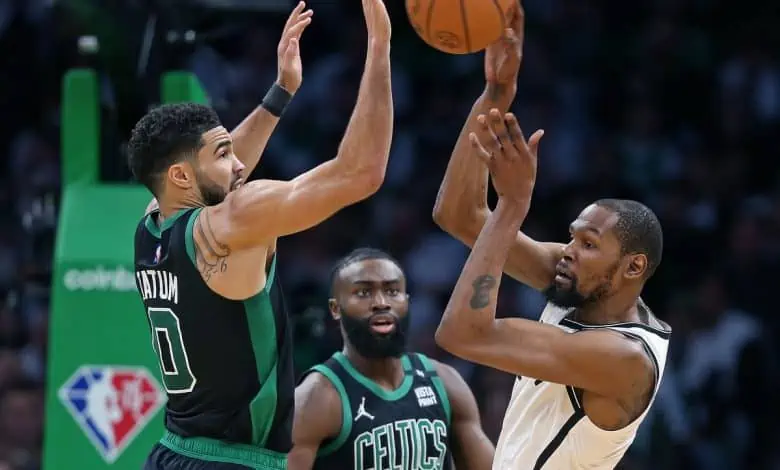 Boston was lucky to escape Sunday's series opener with a 1-0 series lead thanks to a last second layup by Jayson Tatum, but Brooklyn is hungry after their 115-114 loss. The teams have had the last two nights off to recover heading into the Nets at Celtics Game 2 betting matchup which should be another slobber knocker.
Boston is a -3.5 favorite in Wednesday night's tilt despite Game 1 being such a close contest. 77% of the betting public likes the Nets getting points in this matchup, as it wouldn't be a shock at all if Brooklyn was able to get the outright win and tie this series up 1-1.
What More Can Brooklyn Do?
The Nets had every right to take home game 1 outright even as +4.5 underdogs. Kevin Durant missed a 3-pointer up 114-113 with 15 second left which allowed the Celtics to head down the court and convert on the Tatum layup that was upheld after video review to give Boston a 1-0 series lead.
Brooklyn has to wonder how much better they can play in the Nets at Celtics game 2 betting matchup? The Nets shot 54% from the floor (42-78) including 11-24 from three point range (46%) and it still wasn't enough to get the victory. Kyrie Irving led all scorers with 39 points as well even in his return to the hostile environment of TD Garden.
The Nets could get a bit more from Durant in Game 2, as he was 9-24 shooting to finish with 23 points. Durant had 37 points in 39 minutes in Boston on March 6th, but that was still a 126-120 Celtics win. The Celtics have won four straight in this series this year, two at home and two on the road.
Boston Better in Game 2?
The Celtics escaped with a win on Sunday, but it was also their first game in a week and their introduction to the playoff atmosphere. Most people would think that the extra rest was a good thing, but it may have had Boston a little antsy especially with the Nets having a game under their belt with a 115-108 victory over Cleveland in the play-in tournament.
There are reasons to think that the Celtics could be better in Game 2, especially on the defensive end of the court. The Nets shot 54% even though Boston was #1 during the regular season in points allowed (104.5), opponent field goal percentage (43.4) and opposing three point shooting (33.9).
Boston showed a lot of balance in the series opener, Tatum led the way with 31 while Jaylen Brown added 23. Marcus Smart and Al Horford both went for 20 points which means the Nets defense has some issues matching up.
Free Nets at Celtics Game 2 Betting Pick
The easy play here seems to be to take the Nets. They have a star-studded ensemble with Durant and Irving and very easily could have scored the outright win in Game 1. This would be a huge ratings get for the powers that be if this series could go 7 games, and that's helped greatly by Brooklyn tying things up 1-1 here.
There is an issue with Boston still being a -3.5 favorite though, because over 3/4 of the betting public thinks that is too low and are taking the Nets and the points. By numbers alone that makes the Celtics the play.
Free Pick: Boston -3.5