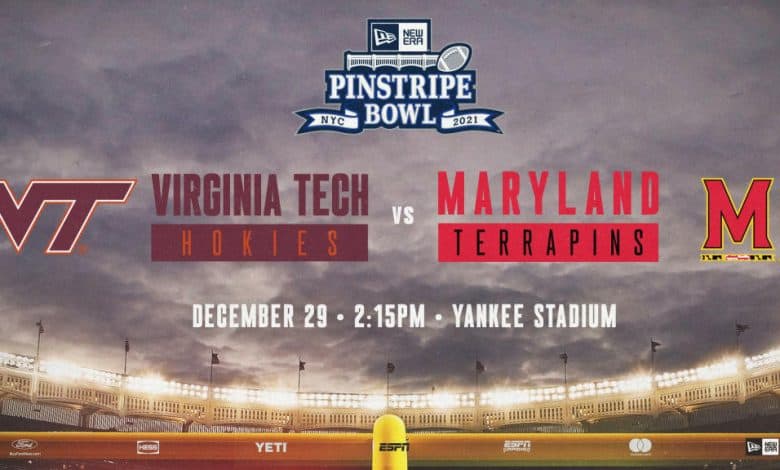 The 2021 New Era Pinstripe Bowl betting matchup features the Big Ten taking on the ACC as the Maryland Terrapins and Virginia Tech Hokies lock horns. Both teams barely squeaked into bowl eligibility at 6-6, with the Terrapins really needing to rally after a 4-0 start to the season.
Virginia Tech alternated wins and losses over the last six weeks of the season, failing to find consistency down the stretch. The Hokies will be led by interim coach J.C. Price, who went 1-1 after former HC Brian Fuentes was fired in mid-November after a 5-5 start. Brent Pry was announced as VT's new head coach, but he won't be taking over until after the bowl game. VT's QB who started all 12 games this season will also not be playing after entering the transfer portal. Maryland is a -4 point favorite in this matchup.
Getting a Glimpse of Tagovailoa
2021 Pinstripe Bowl betting may be the first glance a lot of the country gets of Maryland QB Taulia Tagovailoa, brother of former Alabama and current Dolphin QB Tua Tagovailoa. The younger brother can spin the football too, as his 3,595 yards passing were the 12th most in the country.
Tagovailoa threw for 300+ yards in four of the last five games this season so he's hoping having the last month off didn't kill that momentum. Maryland ranked as the #14 passing team in the country this year, but Virginia Tech matched up with some pretty good QBs this year in ACC play.
North Carolina's Sam Howell basically lost his Heisman hopes in the first game of the year with just 1 TD and 3 INT vs. the Hokies. NFL prospect Kenny Pickett had just 203 yards on 37 attempts in week 7, and although Virginia's Brennan Armstrong had 400 yards in the regular season finale, he did throw just 1 TD to 1 INT. VT's pass defense can stack up, although Maryland RB Tayon Fleet-Davis did have his best game of the year last time out with 152 yards rushing vs. Rutgers.
VT May Need to Score Here
Although the Hokies did have some success against top tier QBs this season, everything can change in a bowl game where teams have had a month to prepare – good and bad. Temps are expected to be in the 40s at Yankee Stadium for this game, which probably favors the more run oriented Virginia Tech squad.
VT ran for 190.6 yards/game this season, due large in part to having a dual threat QB in Braxton Burmeister who threw for 1,960 yards and ran for 521. The Junior showed good command in his 2nd year in this offense, throwing 14 TD to just 4 INT but that 55.7% completion rate could be a bit higher. Tagovailoa meanwhile completed 68.4% of his passes for Maryland.
Burmeister is also not playing in the bowl game however after entering the transfer portal. Connor Blumrick will get his first start with the program after going just 7/16 during the regular season. The Terrapins sported the 3rd worst rush defense in the Big Ten this season (157.5) so there may be some room for VT's Raheem Blackshear to get loose.
Free 2021 Pinstripe Bowl Betting Pick
Virginia Tech's defense may keep them in this one, but will their offense hold up the bargain with a very green QB? Blumrick has had extra time to prepare, but there's nothing like game reps.
Maryland 31 – Virginia Tech 21
Free Pick: Maryland -4