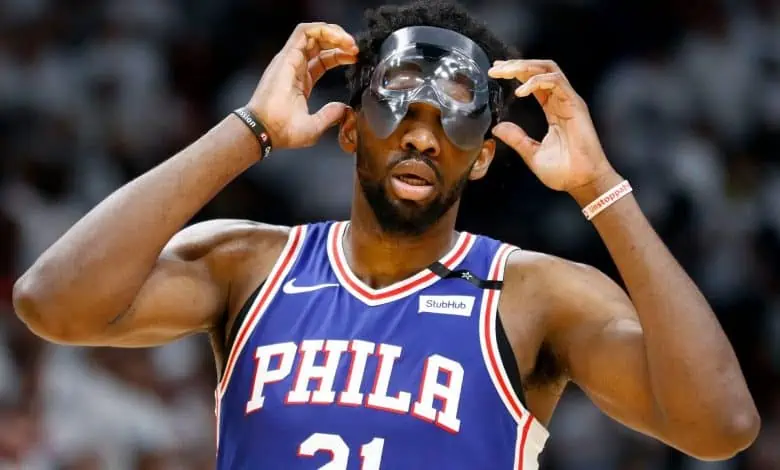 Philadelphia will try to force a Game 7 back in South Beach if they can get a win in the Heat at Sixers Game 6 betting matchup. Miami has taken a 3-2 lead following a 120-85 throttling on Tuesday as -3 point favorites, but have lost both games at the Wells Fargo Center this series.
The Sixers thought they had a chance to steal one in Miami now that Joel Embiid was back in the lineup, but the Heat stifled them to just 36% shooting from the floor and 28% from three point range. Now Philadelphia shifts their focus to not being eliminated in the semifinals for the fourth time in the last five years, and they are -2 point favorites for Thursday night's tilt.
End It on the Road?
Jimmy Butler spent the last part of the 2018/19 season with the 76ers, and he can end his former team's season with a win on Thursday night. Butler has been by far the best player in the series through the first five games, averaging 26.6 points, 7.4 rebounds, and 5.8 assists. Butler was dominant in the two games at Wells Fargo Center as well averaging 36.5 ppg, although that was in two Miami losses.
Miami will be without Kyle Lowry (hamstring) in the Heat at Sixers Game 6 betting matchup, but that's almost a given at this point as he has played 25 minutes this series. Miami got a real team effort in the Game 5 win, with 7 players scoring in double figures led by Butler's 23. Getting balance should be the strategy for Thursday night's tilt although it will be tougher on the road.
The Heat have looked great at home this series winning by 14, 16, and 35 points – but the two games in Philadelphia have been a different story. The 76ers won Game 3 99-79 in Embiid's return to the lineup and tied things up with a 116-108 Game 4 victory.
Philadelphia Tries to Extend
The odds are going to be against the Sixers in a possible Game 7 in Miami, but Philadelphia would still love to get to that point. the home team has dominated in every game this series, so should we expect anything different in Thursday night's matchup?
The 76ers looked like a different team in Embiid's return to the lineup in Games 3 and 4. After losing by a combined 30 points to fall into an 0-2 hole, Philadelphia was able to tie up the series with two home wins. Embiid was solid averaging 21/11 in the two home wins, but was held in check with 17 points and 5 rebounds on Tuesday night. Embiid looked dazed after a shot to the face in Game 5, and it's possible Miami attacks the fractured orbital bone and torn ligament in his thumb that the big man is playing through.
Free Heat at Sixers Game 6 Betting Preview
It's beaten more than a dead horse, but the adage that a series doesn't begin until the home team loses is still alive in this Eastern Conference Semifinals matchup. A Heat road victory would in no way be a shocker, but you still play the trend of home teams dominating in this series.
Free Pick: 76ers -2