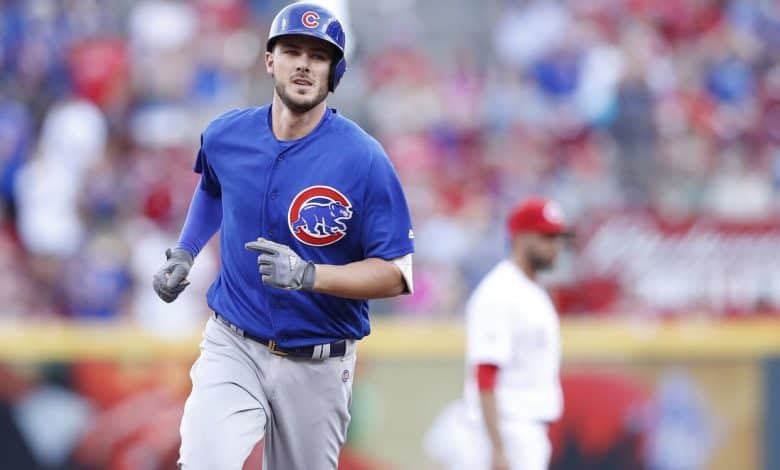 Detroit had a 4-game win streak snapped in Friday's loss to the Cubs, but look to get back on track in the May 15th Cubs at Tigers matchup. Conversely, Chicago's win was their first following a 3-game losing skid. Which team is for real heading into Saturday's game two?
The Cubs are a -141 favorite for this tilt, but Detroit would seem to have some value at +120. Chicago is a mere 5-11 on the road this season, and starting pitcher Trevor Williams (2-2, 5.81 ERA) has a 10.64 ERA in three outings away from Wrigley Field on the year.
Cubs the Play vs. Right-Handers?
Over Chicago's recent three game losing streak they faced two LH starters and reigning Cy Young winner Shane Bieber. The Cubs have won 4 of their last 5 vs. RH starters, and will be up against Jose Urena (1-4, 3.60 ERA).
Kris Bryant had a HR to fuel Friday's win over the Tigers, continuing his resurgent season. Joc Pederson was also 3-4, his fifth multi-hit game in the last six. The Cubs have some familiarity with Urena, who spent the last six seasons with the Marlins. Anthony Rizzo is 7-14 with a HR vs. Urena and Ian Happ returns right in time as he has gone yard twice in 10 career ABs vs. the Tigers starter.
Chicago's big question mark in the May 15th Cubs at Tigers pick is pitching. Williams was solid last time out with just 2 ER allowed, but that was also over just 4.0 IP. The right-hander has allowed 6, 2, and 5 ER over his three road starts this season,
Can Tigers Get Bats Going?
Jake Arrieta was solid on Friday night, allowing two solo HRs over 6.0 IP. The Tigers managed just 4 hits, but had been playing pretty solid offensively prior to that. Detroit scored 23 runs during their four game win streak that just ended with the loss to Chicago.
Detroit doesn't have a ton of familiarity with Williams, who has spent his entire six-year career pitching in the National League. As a team the Tigers are 4-25 vs. the Chicago starter, with Miguel Cabrera going 1-8. Williams has had his share of struggles this season though, especially on the road.
Urena has gone 2-2 with a 4.05 ERA in six career starts vs. the Cubs. The right-hander allowed 9 hits to the Twins in his last start, but was able to hold Minnesota to 2ER over 4.1 IP. One thing Urena has been successful at is limiting the long ball, allowing just 2 HRs in 40.0 IP this season. That, and a 7 MPH wind blowing in from RF may limit Chicago's effectiveness on Saturday.
Free May 15th Cubs at Tigers Pick
Chicago is priced a bit too high at -141 for a Williams start, especially considering his struggles on the road this season. The Cubs are also a very poor road team, going just 5-11 away from Wrigley Field on the year. Granted the Tigers are only 8-11 at home, but they have the far better value at +120 shooting to tie up the series.
Cubs 3 – Tigers 6
Pick: Tigers +120