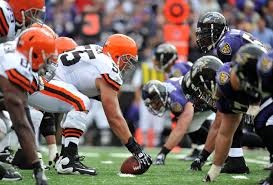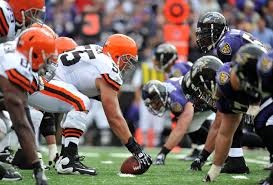 Our 2016 NFL week 10 free pick offers the Cleveland Browns (0-9) and the Baltimore Ravens (4-4). The game, which has an 8:25 p.m. kickoff, offers a possible arbitrage situation as the spread is as low as 7.5 points and as much as 9.0 points. That would mean you would go with the Browns at +9.0 and the Ravens at -7.5, hoping for an eight-point win by the Ravens. That may or may not be advisable.
The Cleveland Browns have managed this season to be the team that simply cannot win. It's true that at times they have kept it close, but they have been unable to seal the deal in any game. Although the Browns have kept scores respectable against teams like the Jets (31-28) and the Titans (28-26), clubs like New England (33-13), Cincinnati (31-17) and Dallas (35-20) have destroyed them.
The Ravens are in a unique position. At 4-4, they can, with a win tonight, take over first in the AFC North. The Pittsburgh Steelers, who have run into some tough times as of late, are tied with the Ravens at 4-4. Baltimore started the season with three straight wins and then managed four losses in a row before beating Pittsburgh last week 21-14. The Ravens are looking to make it two straight tonight.
Cleveland Offense at Ravens Defense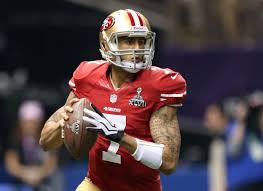 The Cleveland offense is averaging only 18.7 PPG. The team has had six different quarterbacks this season. In this game, Cody Kessler gets the start at QB. Against the Cowboys last week, he was good on 70% of his passes, and he was able to complete a TD pass while throwing no picks. This season he's completed 67.5% of his passes for five TDs. Kessler's thrown just one INT and been sacked 14 times. Opponents have recorded 26 sacks, 31 TFL, 9 INTs, and 8 FF against the Browns.
His primary receiver, Terrell Pryor Sr. (46 REC, 579 YDs, 12.6 AVG, 4 TDs), is suffering from a hamstring pull, and will probably play sparingly. TE Gary Barnidge (36 REC, 426 YDs, 11,8 AVG, 0 TDS) and WR Andrew Hawkins (24 REC, 237 YDs, 9.9 AVG, 3 TDs) offer Kessler some tempting targets. RB Isaiah Crowell (112 ATT, 528 YDs, 4.7 AVG, 5 TDs) will be key to Cleveland's success tonight.
Baltimore's defense is pretty good, as they are allowing opponents just 19.1 PPG. In their last three games, the D has allowed teams in the red zone to score just 37.50% of the time. Throughout the season, the Raven defense has been good in the zone 58.82% of the time for a ranking of 21st. Standouts include Timmy Jernigan (24 TCKL, 4 Sacks, 3 TFL, 1 INT, 3 PD), LB C. J. Mosely (35 TCKL, 2 TFL, 3 INT, 5 PD), and LB Zachary Orr (73 TCKL, 5 TFL, 1 INT, 2 PD, 1 FF, 2 FREC). These guys, as well as others, stand to have a solid night against the Browns.
Baltimore O at Browns D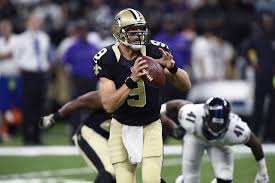 The Baltimore offense is averaging only 19.3 PPG. That's not much better than the Browns. They will look to three guys to be the primary offensive force tonight, QB Joe Flacco (61.2 COMP%, 6 TDs, 7 INT, 18 Sacks), RB Terrance West (111 ATT, 445 YDs, 4.0 AVG, 3 TDs) and WR Mike Wallace (39 REC, 614 YDs, 15.7 AVG, 4 TDs). The main thing for Flacco is to stay out of trouble in this game. One of the primary problems for this offense has been holding into the ball. The Ravens have had 13 fumbles forced against them. They've also suffered 30 TFL.
The Browns' defense is simply ineffective at this point. They are especially problem when opponents are in their red zone, allowing teams to score 71.88% of the time. That's 31st in the league. In addition, this is a team with just 14 sacks, six interceptions, and five forced fumbles. Their primary performer, DB Jamar Taylor (2 INTs, 8 PD) is out once again for this game with a groin. The Cleveland defense is allowing 30.3 PPG.
2016 NFL Week 10 Free Pick
In their first meeting of this season, the Ravens beat Cleveland 25-20. The question is can the Ravens really beat these guys by 7.5 or 9.0? The Cleveland defense is giving up 431 YPC including 146 on the ground. This could be a good night for the Baltimore ground attack. Flacco could have a decent night too. Our 2016 NFL week 10 free pick is counting on the Browns to cover at +9.0.
2016 NFL Week 10 Free Pick: Browns at +9.0