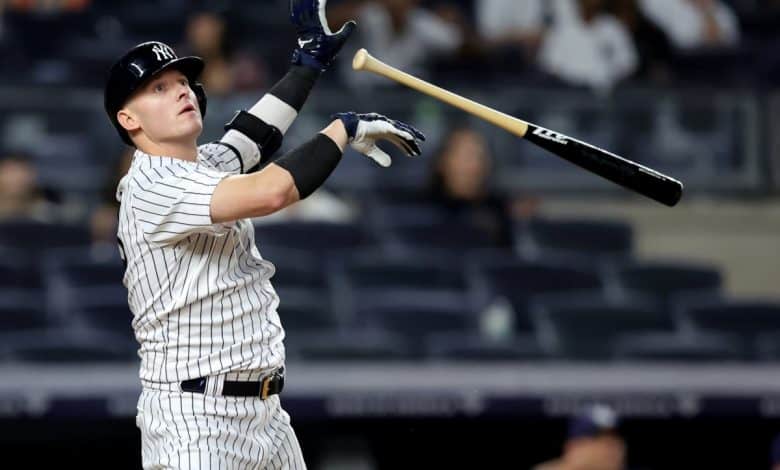 A late – very late – Josh Donaldson grand slam in the bottom of the 10th inning as it was pushing midnight in New York gave the Yankees a huge 8-7 win over the Rays on Wednesday night. Aaron Boone is hoping that is what gives his club a much needed boost as they are just 4-11 in August and one of the three worst teams in baseball since the All-Star break.
Despite New York's struggles, neither the Rays or Toronto have been able to close the gap in the AL East with both squads down 10 games in the division. The Blue Jays have missed a great opportunity as of late, going 2-6 over their last 8, matching the Yankees over that span. That's not the way to make up ground in the AL East. New York is a -155 favorite on Thursday.
Toronto Showing Some Offensive Life?
The Blue Jays have lost six of their last eight – some of those were hard luck losses dropping 7-4 and 6-5 games in Baltimore to kick off this skid. Most of Toronto's recent struggles though have come from deficiencies at the plate, scoring 2 runs or less in 4 of the last 6.
The good news for Toronto is that they looked good on Wednesday, beating the Orioles 6-1 to cash in at -165. They got that win despite the top three spots in the order – Matt Chapman, Vlad Guerrero, Jr. and Lourdes Gurriel, Jr. going 0-10. Guerrero, Jr. is hitting just .208 over the past week and Chapman is in the midst of a big slump just 2 for his last 20 and was moved to leadoff on Wednesday.
Jose Berrios (8-5, 5.61 ERA) being on the mound is a big reason why Toronto is a +130 underdog in the August 18th Blue Jays at Yankees betting matchup. Berrios has a 15.26 ERA in two August starts lasting just 7.2 total IP against the Indians and Twins. The right-hander has a 6.97 ERA in two starts vs. the Yankees this season.
Yankees Have Momentum?
Donaldson's HR is just what the doctor order for New York on Wednesday night. The Yankees are in bad company with the Tigers and Pirates for the worst record since the All-Star break (9-17) and NY had lost six of their last seven.
For such a high-powered offense, the Yankees had been held to 3 runs or less in seven straight games prior to the walk-off win over Tampa Bay – four of those in which they were shut out or held to 1 run. The good news is that New York should be able to tee off on a struggling Berrios, who Aaron Judge is 6-15 (.400) against in his career and who Anthony Rizzo has gone deep twice against in 16 career ABs.
Frankie Montas (4-9, 3.59 ERA) will find out what kind of pitcher in his third start with the Yankees on Thursday night. After coming over from Oakland he gave up 6ER over 3.0 IP in a 12-9 loss to St. Louis but then bounced back to hold Boston to 2ER over 5.0 IP in a 3-2 win last Saturday. This is Montas' first start at home as a member of the Yankees.
Free August 18th Blue Jays at Yankees Betting Pick
Both teams are struggling as of late, but you just can't trust Toronto for the upset the way Berrios has pitched lately. Donaldson's walk-off grand slam on Wednesday could be a momentum builder, and Montas should be sharp in his home Yankees debut.
Free Pick: Yankees -1.5 (+140)