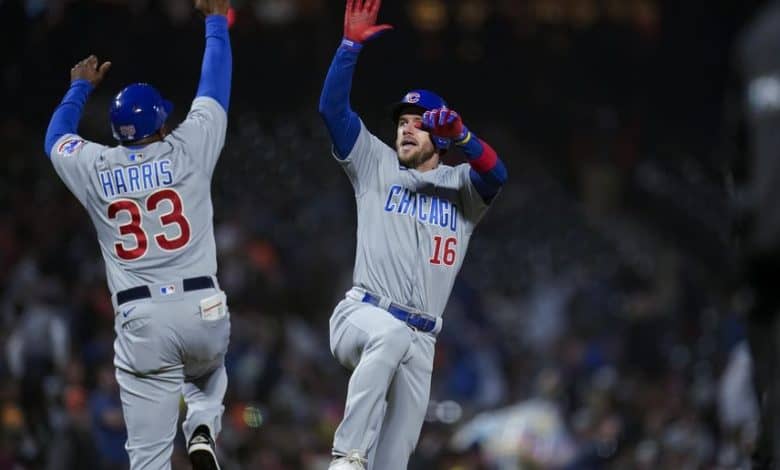 It didn't look like it was going to be a pleasant trip to the West Coast for Chicago, who didn't get a hit until the 7th inning in Thursday's 4-2 series opening loss to the Giants. The Cubs had a nice bounce back though, taking Friday's game by the same 4-2 score as they look for their 8th win in the last 9 games on Saturday night.
San Francisco is on the opposite trek heading into the July 30th Cubs at Giants betting preview. SF was 0-7 on a road trip prior to beating Chicago on Thursday night, but have now killed all that momentum by losing game two. San Francisco is still a -142 favorite on Saturday, with the Cubs retaining some value at +120.
Interesting Series So Far
Chicago was no-hit until the 7th inning on Thursday night, but still got a Patrick Wisdom in that inning which put them within striking distance before the 4-2 loss. Friday's game was 1-0 Cubs heading into the 9th inning, before the teams combined for 5 innings in the final frame before Chicago prevailed 4-2.
Wisdom is 3-6 with 2 HR and 3 RBI this series and could be improving his trade value ahead of Tuesday's deadline. This is expected to be another emotional series for Chicago, who is expected to part with at least Willson Contreras and Ian Happ by the deadline. Contreras is 0-7 with 4 K's this weekend but Happ has gone 3-8 and has an 8-game hit streak going.
Drew Smyly (3-5, 3.93 ERA) gets the ball for Chicago on Saturday night, hoping to build off a successful start to the second half when he allowed 1 ER over 6.0 IP in a 4-3 win over the Phillies last Sunday. Smyly has a 4.29 ERA on the road compared to 3.71 at home, but the Giants are 10-1 in their last 11 home games vs. a LH starter.
Giants Need a Win
San Francisco could easily be sellers by the trade deadline as they are already 18.5 GB from the Dodgers in the NL West and 6.5 back from the Padres – who are expected to get Fernando Tatis, Jr. back next week and have been linked to trade talks with Shohei Ohtani and Juan Soto.
It's been a disappointing year for a Giants squad that had the best record in baseball last year, and the frustration/disappointment is starting to set in. San Francisco was swept by the Dodgers and Arizona coming out of the break and are now 1-8 in the second half.
SF sends Jakob Junis (4-2, 2.98 ERA) to the mound Saturday night and the Giants have won five of the last six games he's pitched in. Junis gave up 1 ER – but over just 4.2 IP – in his first start since the All-Star break but it ended up being a 7-0 loss to Arizona.
Free July 30th Cubs at Giants Betting Pick
The biometrics on both teams are heading in different directions. The Cubs are putting together wins with a young cast of hungry players playing free because the pressure is off of them to make the postseason. The Giants meanwhile have the disappointment of having the best record in MLB a year ago but now looking destined to being sellers by the deadline.
Free Pick: Cubs +120