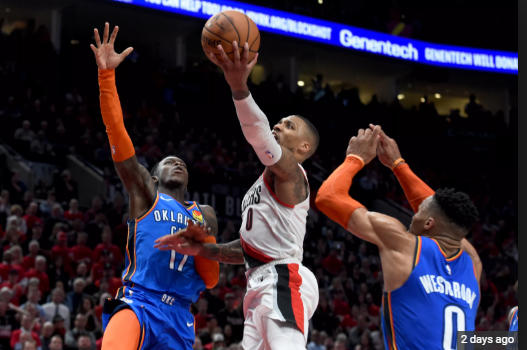 Two nights off and the series shifting back to Chesapeake Energy Arena seems to be giving quite the edge to Oklahoma City ahead of the April 19th NBA free pick. The Thunder dropped the first two games in Portland, but the Trail Blazers are still +8 point underdogs heading into Game 3. At first glance taking Portland plus the points seems to be the side to be on, but is that what oddsmakers want bettors to think?
Can Portland's Back Court Stay Hot As the Series Goes on the Road?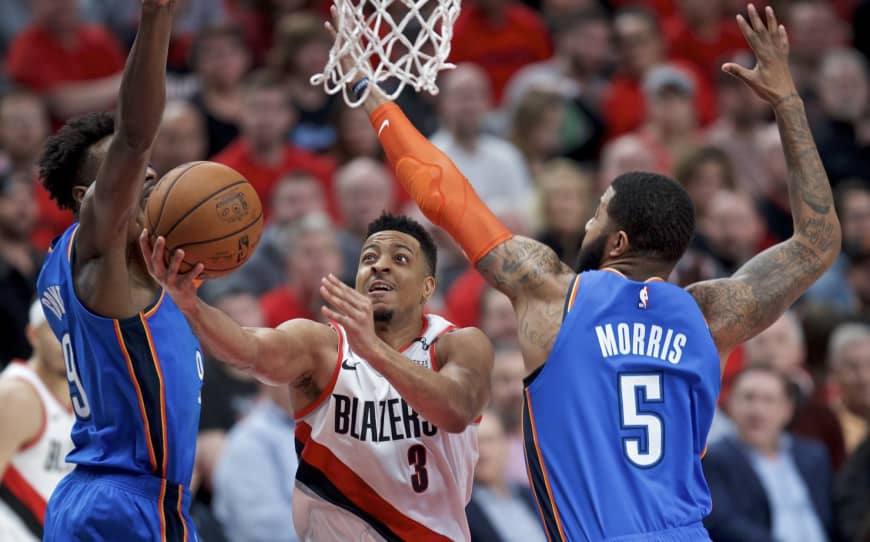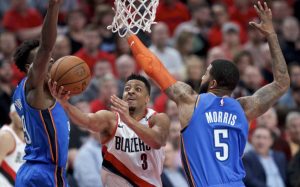 It's no secret what Portland is going to try to do to conquer Game 3 in Oklahoma City on Friday and that's rely on their dynamic duo in the backcourt. Damian Lillard has scored 30 and 29 in the two games at the Moda Center while CJ McCollum has added 24 and 33. If the Trail Blazers want to take this road contest, they'll need a contribution from other players to take the load off Lillard and McCollum. Enes Kanter would be the most likely candidate. as he had 20 points and 18 rebounds in Game 1. Kanter was held in check by a bruised hand and foul trouble in Game 2, but he's not on the injury report as the series shifts back to OKC.
The Trail Blazers did lose both games at the Chesapeake Energy Arena during the regular season. The fell 123-114 in late January and 120-111 in early February. OKC actually won all four of the regular season meetings but that trend has already been bucked in the first two games of this series. Portland has momentum right now though, having won 8 of their last 10 games.
How Do Thunder Respond With Their Season on the Line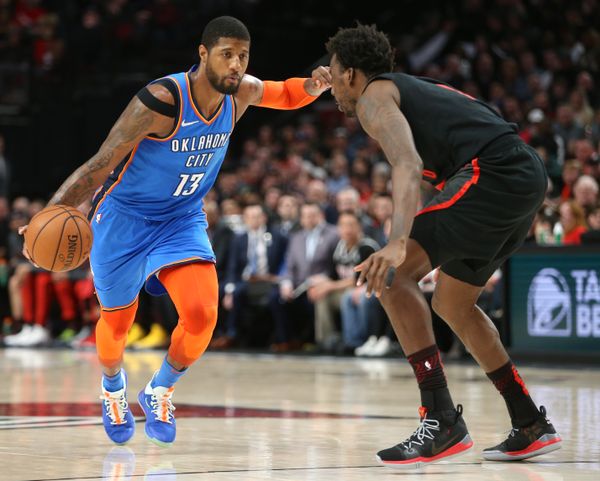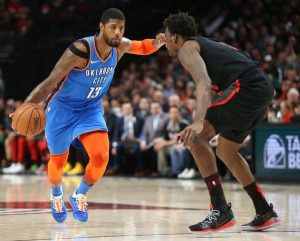 It's do or die Friday for Oklahoma City. Is it possible they could come back from a 3 game deficit? Maybe, but actually probably not really as they'd have to win two at the Moda Center where Portland is 32-9 on the year. The Thunder should have confidence as they were 4-0 vs. the Trail Blazers in the regular season, but the OKC offense has yet to break 100 points through Games 1 and 2.
Oklahoma City still isn't a bad wager in the April 19th NBA free pick. First of all, they've had two nights off since Game 2 which has allowed Paul George to rest his ailing shoulder. George shot much better on Tuesday, going 11-20 after hitting just 8-24 shots in Game 1. A real big story in this series so far is Lillard's effectiveness on Russell Westbrook. Sure Westbrook is just 1 rebound shy of back-to-back triple doubles to kick off the series, but he scored just 14 points last time out. Steven Adams has averaged 16.5 ppg in the first two games which does provide some third tier scoring for the Thunder.
April 19th NBA Free Pick Betting
The Thunder should shoot much better back at home as they have gone 5-33 and 5-28 from three point range in Portland so far in the series. Even so, are the Blazers just a tough matchup? The easy pick in this one would be Portland and the points, but the line is a bit too comfortable. If OKC is able to get their offense going – which they should – then this total is too low.
NBA Free Pick: Trail Blazers / Thunder *Over* 222