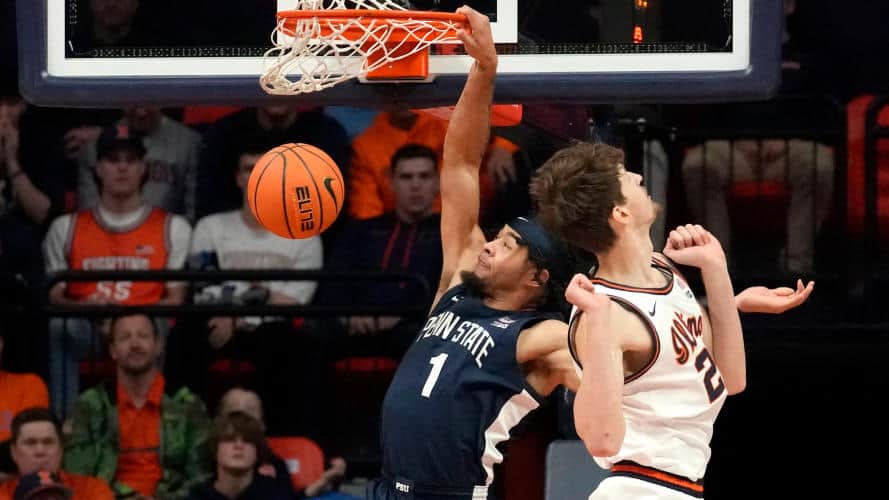 Heading into last weekend's game at Purdue, the Fighting Illini were the #2 seed in the Big Ten and could have had a double bye with a win over the Boilermakers. Brad Underwood's squad fought hard, but a 76-71 loss dropped U of I to the #7 seed in the Big 10 Tournament Penn State vs Illinois betting matchup.
The Nittany Lions (19-12) have the #10 seed ahead of the conference tournament, but they still like the matchup considering they've beaten Illinois twice already this season by an average of 13.5 points. The Fighting Illini drew a slight -2.5 favorite tag, and over 70% of public betting likes them to cover that number despite the struggles vs. PSU this year.
Why Penn State Can Cover +2.5 Points
Talk about confidence – who do you think has more pressure in the Big 10 Tournament Penn State vs Illinois matchup? PSU is a lower seed, and comes to their tourney opener with a 74-59 win in Champaign and a 93-81 victory over the Fighting Illini at home on their 2023 resume.
One could stake a claim that the two wins over Illinois were Penn State's best games of the season along with their 85-66 win over Indiana on January 11th. The Fighting Illini have had no answer for Jalen Pickett, who had 20 points at the State Farm Center meeting in December but blew up for 41 points and 8 assists back at the Bryce Jordan Center in last month's win over Illinois.
PSU looked good in two wins over Illinois this season, but they also come into the Big 10 Tournament with momentum as winners of five of their last six.
Why Illinois Can Cover -2.5 Points
Thursday night's game will be a nice test for the Illinois coaching staff, as if they can draw up a game plan to limit Pickett they should be able to advance to Friday. Four PSU players scored at least 15 points in the first meeting with Illinois this season, but it's been Pickett that has been the Illini killer overall.
One thing on Illinois' side is the fact that the Big 10 Tournament is being held in Chicago this season, which should give the Fighting Illini a noticeable home court advantage. U of I went 15-2 at home this season – but of course one of those losses came against this Penn State club.
Illinois has an All Big 10 first team member to match Pickett in Terrence Shannon, Jr., who has gone for 20+ in three of his last five. Another senior, Matthew Mayer, has hit for 20+ in three of his last six and the experience of those two makes the Illini very tough to beat in postseason play.
Free Big 10 Tournament Penn State vs Illinois Betting Pick
Penn State won 5 of 6 down the stretch, three of those victories on the road where it's always tough to get wins in this conference. This just seems like maybe the worst possible matchup for the Fighting Illini, who consider the Nittany Lions one of their biggest pests.
Too much Pickett, and too much pressure on Illinois playing in front of the Chicago crowd let the #10 seed advance here.
Free Pick: Penn State +2.5