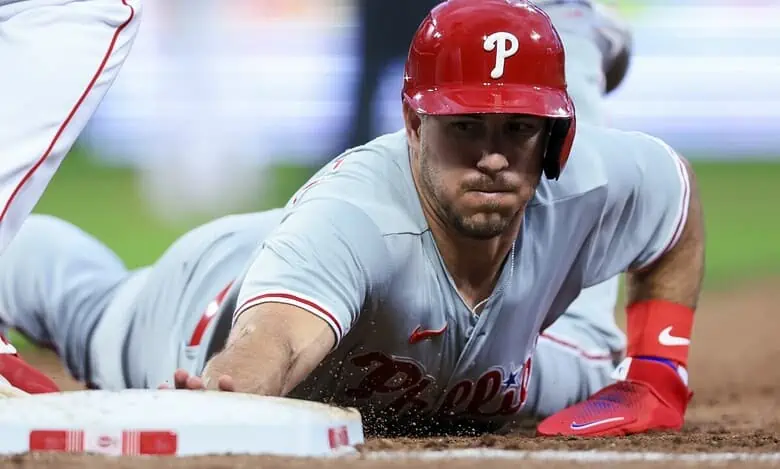 Philadelphia and Cincinnati have seen a lot of each other already here on this young 2023 MLB campaign. The Phillies took two of three at home against the Reds last weekend, and the teams have so far split the first two of their four game set this weekend at the Great American Ballpark.
The Reds picked up a 6-2 win on Thursday at +102, but the Phillies countered with an 8-3 victory on Friday night that was pointed too with the -145 odds. The Saturday April 15th Phillies at Braves betting line has leveled off a bit, with Philadelphia at -115 and Cincinnati -105. This game looks like it could go either way, but 2/3 of the betting public like the Phils.
Why the Phillies Have Value at -115
It hasn't been a great start to the 2023 season for Philadelphia, but it's still early especially for a team coming off the World Series hangover of last year's loss to the Astros. The Phillies are just 5-9 on the year, but 2/3 of those wins have come against Cincinnati which offers some incredible value on the road team with a price tag of just -115 on Saturday night.
The Phillies looked good on Friday night, gaining some much needed momentum by snapping a 3-game losing streak with an 8-3 win at the Great American Ballpark. The 2-3-4 lineup of Trea Turner, Kyle Schwarber, and Nick Castellanos went 6-12 in that game, J.T. Realmuto also had a multi-hit game from the #6 spot which just shows a great example of Philadelphia's depth even without Bryce Harper, who could be back in early May from his elbow injury.
The lefty Matt Strahm (1-0, 0.00 ERA) goes for the Phillies after he made news this week by criticizing the MLB's policy of extending alcohol sales into the 8th inning. Off field news aside, Strahm has been solid this year with 0 ER allowed in his last two starts while getting plenty of run support as well in a 4-1 win over the Yankees and a 15-3 stomping of the Marlines.
Why the Reds Have Value at -105
You could kind of see Cincinnati's loss on Friday night coming, as they jumped from a -110 favorite in the series opener to a +134 underdog in game two. The line has kind of leveled off though for the April 15th Phillies at Reds betting pick, so the numbers say this one could go either way.
The Reds are/were supposed to be atrocious this season, but they're a decent 5-8. Most of Cincinnati's problems have come on the road where they are 1-5, but you have to think this team has some value at home where they are 4-3, plus it never hurts that the Phillies are 2-6 away from Citizens Bank Park.
Philadelphia probably has the pitching edge with Strahm on the mound having yet to give up a run this season, but Graham Ashcroft (1-0, 2.08 ERA) has been very solid for the Reds as well. Ashcroft has completed at least the 6th inning in both of his starts, while allowing a total of just 3 ER over his first 13.0 IP.
Free April 15th Phillies at Reds Betting Pick
Both pitchers have had very good starts to 2023, so expect a bulk of the public betting to be on the under – which is also sky high at 9.5. Philadelphia looks like just too easy of a play here at -115, and this is still a team that had dropped four of five prior to Friday night's victory. Fade and go Reds here.
Free Pick: Reds -105