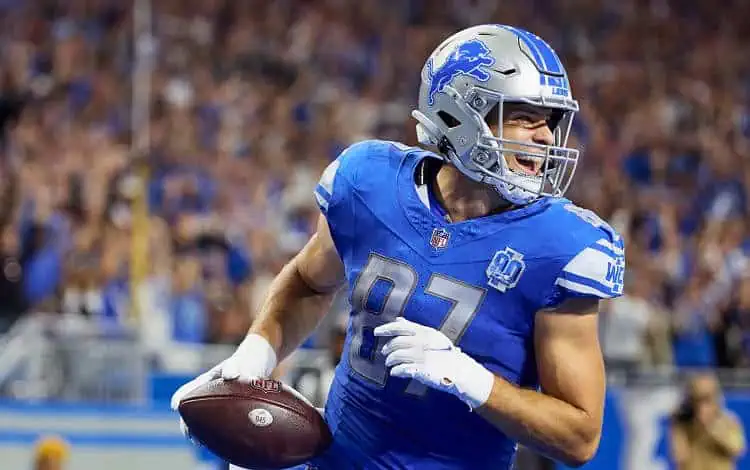 A crazy Week 8 of the NFL season is set to wrap up on Monday Night Football as the Detroit Lions are set to host the Las Vegas Raiders. These teams look to be going in different directions this season, but that doesn't mean that a great game won't take place. 
Las Vegas comes into this game with an overall record of 3-4, and they are struggling to keep pace in the AFC West. The Raiders were just blown out by the Chicago Bears in Week 7 and then they need to get back on track in a big way. 
Detroit is currently on top of the NFC North Division and they are looking to run away with the division title. The Lions did suffer a blowout loss to the Baltimore Ravens in Week 7, but they have played great this season. 
The Lions are 7.5-point betting favorites over the Raiders on Monday Night Football. 
Raiders Have to Run
If the Las Vegas Raiders are going to turn things around this season then they have to find a way to run the football. Las Vegas is averaging just 69 yards per game on the ground this season, and that has allowed defenses to load up in the secondary. 
Jimmy Garoppolo is set to return from injury this season, and that should help the Raiders find some success on offense. Garoppolo has already thrown eight interceptions this season, and he can't afford to turn the ball over in this game. 
Las Vegas just allowed 30 points to the Chicago Bears last weekend, and that defense is going to have to bounce back in a hurry. The Raiders have been good in the secondary this season, and that will be a big key on Monday night. 
Lions Looking For Defense
The Detroit Lions have had a great start to the season, but they are still looking for more defense this season. Detroit just gave up 38 points in their most recent game, and that unit has to respond in a hurry. 
This is a team that has done a great job against the run as they are allowing just 77 points per game. Detroit will be looking to shut down the Raiders on the ground in an effort to slow down the tempo. 
Quarterback Jared Goff is having a great start to the season as he has thrown for 1,902 yards and 11 touchdowns this season. The Lions have the ability to be explosive and that could help determine this game. 
Lions Roll Over Raiders
The Las Vegas Raiders are going to get their starting quarterback back for this game, and that will certainly help. Las Vegas just hasn't ran the ball well all season long, and that's going to hurt them in this matchup. 
Detroit can put points on the board in a hurry this season, and they also have a defense that can put teams in some bad positions. Look for the Lions to be great on both sides of the ball in this game as they are going to pull away in the second half. 
Bet the Detroit Lions -7.5 as they are going to roll over the Las Vegas Raiders and win big to round out the NFL Week 8 action.