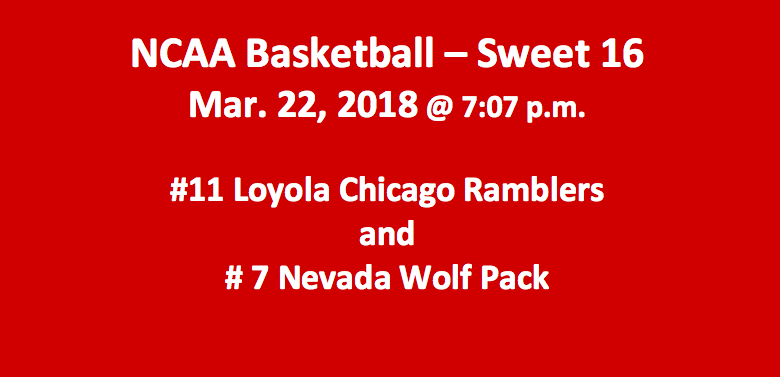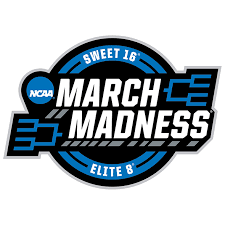 The Sweet 16 starts today, Thursday, March 22 at 7:07 p.m. with two teams most thought would never make it this far, the #11 Loyola (Chi) Ramblers (30-5) at #7 Nevada Wolf Pack (29-7). This South Region matchup is projected to be a tight one, as the Wolf Pack are offered at -1.0. The over/under stands at 144.0. The two teams will meet at the Philips Arena in Atlanta, GA. Here's our Loyola plays Nevada 2018 March Madness Sweet 16 pick, which includes the spread and over/under. We will have three more NCAA Tournament picks posted today and four tomorrow as well as all of the Elite Eight games this weekend.
Recent History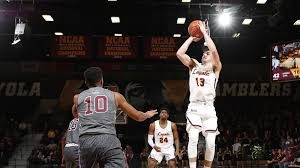 The Loyola Ramblers got to the Big Dance by finishing first in the Missouri Valley Conference and by taking down the conference tournament. The won the MVC Tournament by beating the Illinois State Red Birds 65-49 in the finals. After earning their way into the 2018 NCAA's, the Ramblers first played #6 Miami on Mar. 15. They won that game 64-62. In round two, they beat #3 Tennessee 63-62 on Mar. 17.
The Nevada Wolf Pack finished first in the Mountain West Conference regular-season standings. However, they lost in the second round of the MWC Tournament to San Diego State 90-73. Still, their first-place finish in the conference plus their record and overall performance got them a spot at the Big Dance. In the initial round of the NCAA's, they met and defeated a very tough #10 Texas Longhorns team, 87-83 in OT. They then surprised the #6 Cincinnati Bearcats, defeating them 75-73.
Basic Stats and Facts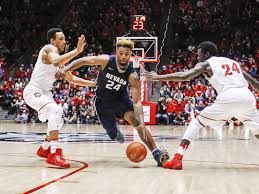 The Ramblers have played very tough defense fir the entire month of March, limiting opponents to 62 points or less. Although throughout the entire regular season and postseason, they have averaged 71.9 PPG, in the month of March, Loyola is averaging 61.6 PPG. The most points they have scored over the past five games was 65. During 2017-18, the Wolf Pack have been averaging 83.0 PPG, and in March, Nevada has been scoring 82.0 PPG. In that same time, they've held their opponents to 75.4 PPG and in the tournament to 78.0 PPG.
Field goal percentage goes to the Ramblers, 50.6% to 47.0%, while RPG goes to the Wolf Pack, 35.9 to 32.0. Assists and steals are about the same, while Nevada holds a 1.5 edge on BPG. Both teams are shooting 40% from the arc and beyond, but Nevada is a bit better from the foul line with those stats comparing at 74% to 72%.
Players to Watch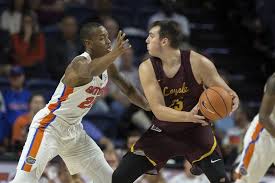 Loyola features five starters who are double-digit scorers with junior guard Clayton Custer leading the team in points per game (13.3) and assists per game (4.2). He's a 53% shooter from the floor and good on 46% of his threes. Freshman center Cameron Krutwig is scoring 10.4 PPG while grabbing 6.1 RPG, and senior guard Donte Ingram is good for 11.5 PPG and 6.4 RPG. Krutwig is a 60% shooter. Senior forward Aundre Jackson is hitting 58% of his field goals.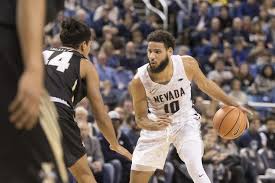 Four players on the Wolf Pack are hitting for double digits, with two juniors, forward Caleb Martin and guard Jordan Caroline, leading the way averaging 18.8 and 17.7 points per game respectively. Martin is hitting 46% of his field goals and 40% of his threes whole taking in 5.4 RPG. Caroline is grabbing a team-best 8.7 RPG and shooting 47% from the floor. Another junior, Cody Martin, is putting up 13.9 PPG and taking down 6.3 RPG while leading the team in assists with 4.7 per game.
Our Loyola Plays Nevada 2018 March Madness Sweet 16 Pick
For the Ramblers to win, they are going to have to contain Nevada's scorers and also at least win a draw on the boards. That is possible. Still, the Wolf Pack has some players who can pile up points quickly. Our Loyola plays Nevada 2018 March Madness Sweet 16 pick is Nevada at -1.0. We are taking the under on this game at 144.0.
Ramblers and Wolf Pack Pick Summary: Nevada at -1.0 and under 144.0