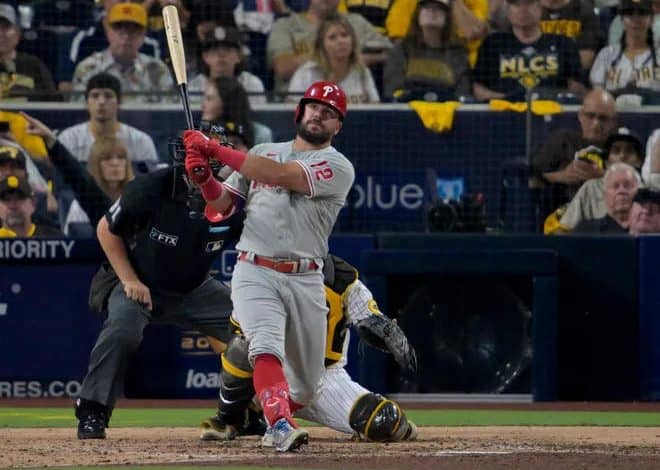 In a series featuring the likes of Juan Soto, Manny Machado, Bryce Harper, and Kyle Schwarber, it was pitching that led Philadelphia to a 2-0 win over San Diego on Tuesday to take a 1-0 series lead in the NLCS. Schwarber and Harper both did hit solo HRs, and that was all Zack Wheeler needed following 70 IP of 1-hit ball.
There are plenty of storylines to go around in the Game 2 Phillies at Padres matchup. Aaron Nola starts for Philadelphia facing his brother Austin Nola the San Diego catcher. Blake Snell starts for the Padres, and it was his pitch that broke Harper's thumb back in June.
Phillies Content With One?
The Phillies have stole home field advantage with their game one win, but is that enough for them? Schwarber was 2-3 from the leadoff spot with the long ball but Harper's HR was Philadelphia's only other hit. They definitely need some more offense in the Game 2 Phillies at Padres matchup against Snell.
The Phillies are listed at -102 on Wednesday (SD -116), and have some value considering they've been successful in two meetings against Snell this season. Philadelphia scored 3 ER over just 3.2 IP from Snell in a 3-0 win on May 18th and then tallied 4ER in 5.2 IP in a 4-2 victory at the end of June.
J.T. Realmuto could be the breakout star of game 2 considering he's 4-10 in his career vs. Snell, especially considering Harper, Nick Castellanos, and Jean Segura are a combined 4-32 vs. the San Diego starter.
Can Padres Get to Nola?
Wil Myers was the offensive star for San Diego in Game 1…with 1 hit. Myers was the only Padres batter to get a knock off of Wheeler, with Seranthony Dominguez and Jose Alvarado each pitching one inning of no hit ball to seal the 2-0 victory.
We had some questions about how San Diego would perform as the favorite considering they weren't expected to get past either New York or the Dodgers the last two rounds. Getting one hit isn't a great response, and now the Padres have to face Nola who hasn't allowed a run over 12.2 IP this postseason. Nola gave up 1 ER over 7.0 IP in his lone start vs. the Padres this season.
Yu Darvish gave up both of the solo shots in Game 1, but he did give up just 3 hits. That bodes well for Snell on Wednesday night it really just comes down to if he gets any run support. He finished the regular season strong allowing 1 run or less in 5 of his last 6 starts and so far in the postseason has given up 3 ER in 8.2 IP.
Free Game 2 Phillies at Padres Betting Pick
51% of the betting public like the Padres to bounce back and tie up the series 1-1 here. This really is somewhat of a must win game, because Citizens Bank Park is going to be an absolute madhouse when the series shifts back there this weekend. This should be another pitching dominant game so the under 7 looks solid, but you have to bank on San Diego getting the win as well.
Free Pick: Padres -116