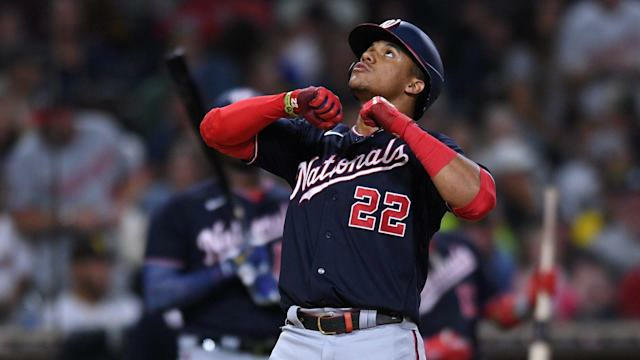 MVP candidate Juan Soto leads his Washington team into the September 27th Nationals at Rockies matchup. There's no better place to pad your stats than in the atmosphere of Coors Field, where coincidentally Colorado has lost 9 of their last 10 home games. The Nats' also come into this contest on a 3-game losing streak however.
Even though it may seem like a toss-up game, oddsmakers have the Rockies as a somewhat high -162 favorite in this series opener. Colorado's poor record at home since September is due largely in part to playing the Braves, Giants (twice), and Dodgers who are all playoff bound teams. Despite losing 10 of the last 13 at Coors Field, the Rockies home record is still 46-32 showing the dominance they've had in Denver most of the season.
Soto Leading Nationals Into Denver
It's going to take a team effort for Washington to win the September 27th Nationals at Rockies matchup, but having Juan Soto in your lineup definitely puts a dent in what the other players need to do. Teams are straight up avoiding Soto right now as his 18 walks in the last 10 games would prove, but getting runners on base at Coors Field means anything can happen.
Overall Soto has a .690 OBP over the past week and that's even after a rough past 3 days in Cincinnati where he is 1 for his last 8. Soto has a .386 batting average his last 40 games and is 2-5 with a HR in his career against Colorado starter German Marquez. Is one man enough to put Washington over the edge as +145 underdogs though? As a team the Nationals are just 11 for 56 (.196) vs. Ruiz.
Washington is probably going to need some runs to pull off the win on Monday night mostly because of rookie Josiah Gray (1-2, 5.92 ERA) and his struggles to wind down the season. Gray had a nice outing last Wednesday with 2 ER allowed over 6.0 IP against the Marlins, but had allowed 22 ER in four starts prior.
Taking Colorado Risky With This Offense
Even playing in hitter friendly Coors Field, the Rockies managed just 2 runs in each of their three losses to the Giants over the weekend. That includes 0 HR until a C.J. Cron solo shot on Sunday, when meanwhile the Giants belted out 7 long balls over the three game series.
It was supposed to be a good offensive series for the Rockies too after they had faced the top three contenders for the NL Cy Young the series prior in the Dodgers' Julio Urias, Walker Buehler, and Max Scherzer. Not only that, Colorado had success against that gauntlet too, tagging Urias for 4 ER, Buehler for 5, and Scherzer for 5 as well. That would lead one to think Colorado tees off on Gray Monday night.
September 27th Nationals at Rockies Pick
German Marquez (12-10, 4.27 ERA) starts for Colorado on Monday night and he's had about just as many struggles as Gray has lately. Marquez has allowed a total of 11 ER over his last two starts, and is in a pitching rematch from a September 17th meeting that the Rockies won 9-8. That game was 7-6 by the middle of the 6th inning – and in Nationals Park instead of Coors Field – meaning the total has to be the play in this one.
Nationals 7 – Rockies 6 
Free Pick: Over 11.5