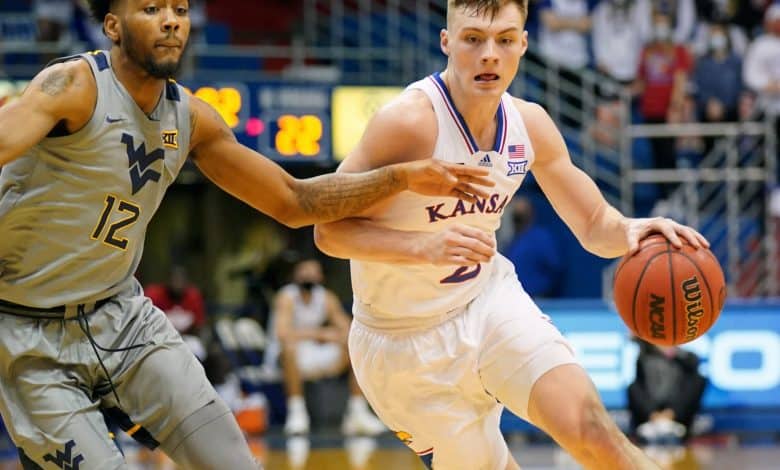 The February 6th Kansas at West Virginia pick is set to be a good one as two top 25 teams meet up in Morgantown. The #23 Jayhawks have had their share of struggles away from Allen Fieldhouse, going just 2-4 on the road this season and dropping their last four away games.
West Virginia suffered and 85-80 loss to Florida as -3.5 favorites in their last home game but bounced back with a 76-72 win over Iowa State on Tuesday albeit as -11.5 road favorites. Basically both squads are a little shaky coming into this matchup, but the Mountaineers are listed as -2.5 favorites. KU did get a 79-65 win in December as -2 favorites, their 5th straight in the series.
Jayhawks a Different Team on the Road
Maybe Kansas' struggles away from home should be taken with a grain of salt because the last three have come against Baylor (77-69), Oklahoma (75-68), and Tennessee (80-61), all teams that rank in the top 11 in the nation.
KU did look good last time out, dominating Kansas State 74-51 but that was expected as -18.5 favorites. Eight players logged at least 17 minutes in that game, partly because of the blowout but also because Bill Self is juggling with his rotation a bit. Christian Braun had 18 points after putting up just 9 in the three games prior. David McCormack has also been solid with 15+ points in three straight.
Finding some depth would be great for KU heading into the February 6th Kansas at West Virginia pick as the Jayhawks lack a lot of their star power from recent years. Self's team is just 6th in the Big 12 in scoring, but have been playing sound defense, ranking 3rd in the conference giving up just 66 ppg.
Time is Now for West Virginia
There's no better time for WVU to stop their recent slide against Kansas than Saturday's game with a Jayhawks team that struggles on the road. KU has now won five straight in the series, but this matchup is the largest that West Virginia has been favored in the last 10 meetings.
West Virginia is just 5th in the Big 12 in scoring, but they have some talented players that can put the ball in the hoop. Miles McBride had gone for 15+ in 4 of 5, but has been held to single digits the last two. Sean McNeil had 24 in the first meeting with Kansas, and has pumped in at least 13 points the last three games. The real key is going to be Derek Culver, the 6'10 forward who has at least a dozen rebounds in 4 of the last 6 and had 28 points in the loss to Florida.
All five KU starters scored in double figures in the first meeting between these teams while WVU was very top heavy with 24 from Mcneil and 19 from McBride. KU also won the battle of the big men as McCormack had 10 points and 11 boards while Culver was held to 8 & 8.
Free February 6th Kansas at West Virginia Pick
West Virginia has boosted their fan attendance to 1500 for this matchup, up from 1,000 in the Florida game. The Jayhawks have had their share of struggles on the road, but also dominate West Virginia in this series. Whenever you can get points in a game a team has a great chance of winning outright you take it.
Kansas 66 – West Virginia 59
Free Pick: Kansas +2.5