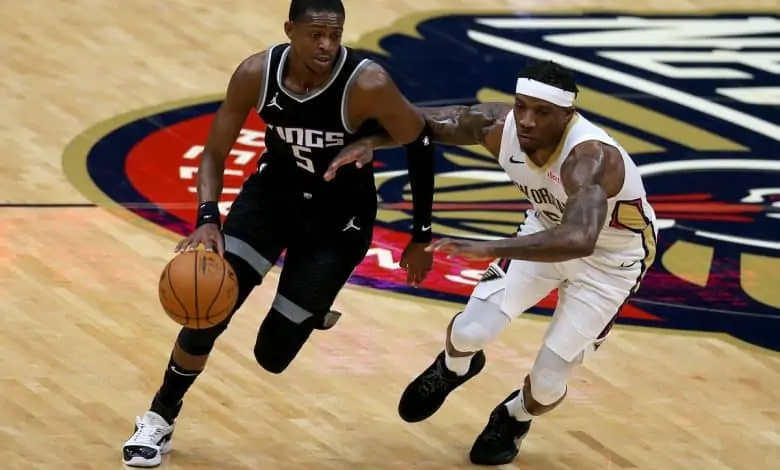 The spread is just a bucket heading into the April 12th Kings at Pelicans matchup, with the home team New Orleans giving the -2. There would seem to be some value on Sacramento in that regard, as the Pels' are on the short turnaround after a 116-109 win at Cleveland on Sunday as -9 point favorites.
New Orleans burned up a lot of minutes in the win over the Cavs, meaning the Kings could get out and run in this matchup. Oddsmakers are expecting some points with a betting total of 236.5, but the side could go either way with the teams splitting two games so far this season.
Big Night for Fox?
New Orleans is a bit thin in the backcourt heading into the April 12th Kings at Pelicans pick. There was some optimism that Lonzo Ball could possibly return from a hip injury, but he'll instead join Nickeil Alexander-Walker and Josh Hart on the sidelines.
That's solid news for the Kings guards, especially De'Aaron Fox who has tore up the Pelicans this season. Sacramento has gone just 1-1 vs. New Orleans this year, but not for a lack of effort from Fox who has 38/4/12 and 43/4/13 in those contests. The Pels' rank 26th defensively vs. the PG position this season.
The only thing about this game is that it's incredibly hard to trust the Kings right now, as they've lost six straight games. Their offense has gone in the tank, being held to 106 points or less in four of those six losses. The good news is that the Pelicans have the third worst defense in the NBA, the bad news is Sacramento has the worst.
Pelicans Too Fatigued Here?
New Orleans only pushed on the -7 number on Sunday, but they still had a little tougher time than expected against Cleveland on the first leg of a back to back. In fact, the Pelicans needed a 26-15 advantage in the 4th quarter just to get the victory.
As a result, Stan Van Gundy burned up 35+ minutes from Zion Williamson and Brandon Ingram, who both missed time with injuries lately. Williamson has dominated lately with 34+ points in three of the last four games, but how effective will he be playing on 0 days rest? Williamson was also held to 17 points in the 9 point home loss to Sacramento at the beginning of February.
New Orleans does come into Monday night's tilt with wins in three of their last five, and is up against a struggling Sacramento team that has dropped six straight. One of those victories was a 101-94 win over Philadelphia on Friday night, the Pels only home game over their last five. The only thing is, New Orleans had lost to Atlanta and Orlando in the two prior at Smoothie King Center.
Free April 12th Kings at Pelicans Pick
This is a tough call, since Sacramento is playing so horribly lately but New Orleans is also on the back to back. Fox and Williamson could even each other out here, but a rested Kings team should be the x-factor.
Kings 128 – Pelicans 124
Free Pick: Kings +2