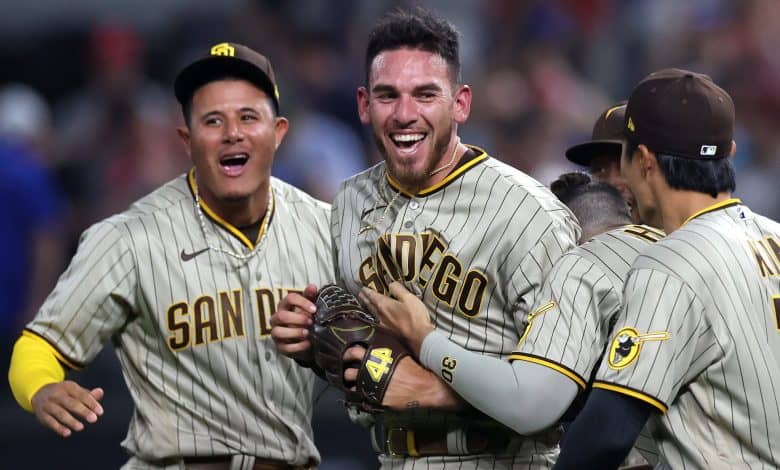 Two squads that have been battered by the Pirates of all teams meet up in the April 19th Brewers at Padres matchup. Milwaukee just lost two of three at home to Pittsburgh over the weekend, while San Diego only managed a 2-2 split of their four game set last week.
Milwaukee is on the road after 7 straight at home, but the Crew is also 4-2 on the road this season. San Diego just lost a series at home with the Dodgers, but were able to wrap things up with a 5-2 win on Sunday against Trevor Bauer. San Diego is a -156 favorite as Joe Musgrove makes his first home start since throwing the first no-hitter in franchise history. Could Milwaukee sneak one out at +146.
Brewers Too Banged Up?
Milwaukee is in a great sandwich spot as the Padres just wrapped up a series with the Dodgers but also have a 4-game series coming up this weekend in L.A. It wouldn't be a shock if San Diego overlooked the Brewers here and Milwaukee got the upset at +146 – if they were healthy.
Craig Counsell's team has made the short 3-game trip to the West Coast without Christian Yelich (back), Lorenzo Cain (quad), and Kolten Wong (oblique) among others. On the bright side Milwaukee has been without that trio since April 13th, and they've scored 20 runs in the four games since.
Jackie Bradley, Jr. is starting to get hot with a .381 average over the last week, and Daniel Vogelbach hit 2 HRs on Sunday in a start at 1B. Milwaukee also has a great bullpen, and a starter that can get the game to them in Brandon Woodruff (0-0, 2.12 ERA).  Woodruff has been great the last two, allowing just 4 hits and 1 ER in 13.0 IP. Woodruff hasn't given up a long ball yet this year.
Padres Ready for a Letdown
San Diego has to be a bit exhausted following their weekend series with the Dodgers that featured just about everything. That would put them in a bit of a rough spot as they have a 3-game speed bump with the Brewers before firing things back up on Thursday this time at Chavez Ravine.
The Padres still have a 3.5 game deficit to make up in the West, and know they need this win. Getting it against a Milwaukee team taking a short 3-game trip to California is a little easier with Joe Musgrove (2-1, 0.47 ERA) on the mound. The San Diego native is known for his no-hitter vs. the Rangers on April 9th, but also followed that up with 4.0 IP of 1 ER ball against his former team Pittsburgh.
Monday night could be a pitcher's duel, and the betting total is microscopic at 6.5. The teams have a combined 50 ABs vs. opposing starters, although Manny Machado is 2-4 (.500) vs. Woodruff and Victor Caratini is 3-7 (.429). Keston Hiura and Travis Shaw have both HR'd off Musgrove.
Free April 19th Brewers at Padres Pick
The Milwaukee offense has produced better without Cain (.154) and Wong (.105) in the lineup. Fernando Tatis, Jr. returned for San Diego over the weekend, but was 1-13 with 6 Ks vs. the Dodgers. Woodruff has been great, and if he can turn things over to the bullpen that gives the Brewers a chance to scratch out the winner late.
Brewers 4 – Padres 3
Pick: Brewers +146