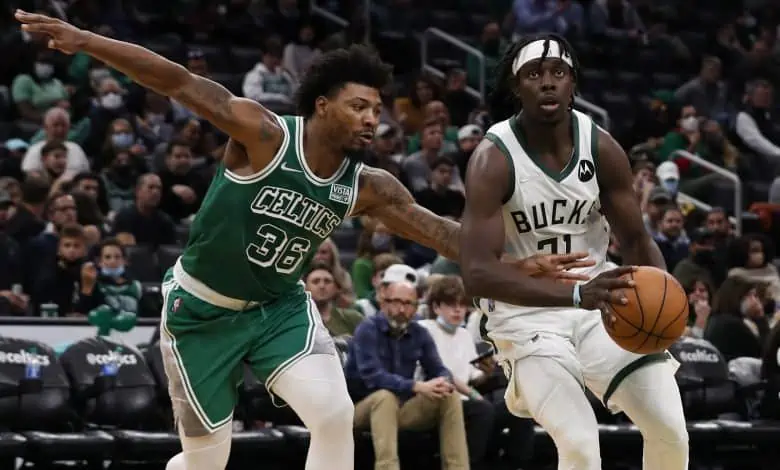 It's do-or-die time for Boston heading into the Celtics at Bucks game 4 betting matchup. The C's have found themselves in a 2-1 hole in real danger dropping to 3-1 Monday at Fiserv Forum. The Celtics had their chances on Saturday, but a last minute Al Horford came a split second after the final buzzer and Milwaukee got the 103-101 win.
The Bucks have to like the spot they are in, taking home court advantage with a 101-89 victory in the series opener while getting the split at TD Garden losing 109-86 in Game 2. Milwaukee did almost blow a 13-point fourth quarter lead on Saturday, but they are still in the driver's seat as slight -1 point favorites for Monday night's matchup.
Boston Had Their Chances
The Celtics were disappointed in the Game 1 loss, but looked to snap out of it in their 23-point win in Game 2. There was a three day layoff before Game 3, and Boston definitely looked a little rusty on Saturday but did battle back to only lose by 2.
Despite falling down 1-2 with Saturday's loss, there are plenty of reasons for coach Ime Udoka to be optimistic ahead of the Celtics at Bucks Game 4 betting matchup. Boston lost by just 2 points in Game 3 despite 42 points from Giannis Antetokounmpo compared to just 10 from Jayson Tatum. The C's should have a great chance on Monday if that margin closes a bit.
Tatum had 29 points in the Game 2 win and is averaging 25.4 this postseason so Saturday's effort was definitely a down game. Jaylen Brown stayed hot with 27 points in Game 3 and Boston got a great effort from Al Horford who had 22 points and 16 rebounds.
Too Much Antetokounmpo?
Boston has the #1 defense in the NBA but even they are struggling trying to keep Antetokounmpo in check. The former MVP had a triple-double in Game 1 (24/13/12), followed that up with 28/9/7 in Game 2, and then went for 42/12/8 on Saturday. Even with Antetokounmpo being so great, Milwaukee was a late tip away from going to OT and possibly being down 2-1.
Milwaukee got a great game from Jrue Holiday on Saturday with 25 points as he shot 11-30 from the field. In the two games that Marcus Smart has played this series Holiday has averaged 25 points, and he was held to 19 in the game that Smart missed with a quad injury.
The Celtics defense did hold the Bucks to 40% shooting and 26% from three-point range on Saturday, it's just that Boston's offense put up just 37% and 27% respectively on their own. Some of that had to do with the long break and playing the first game at Fiserv Forum, so in theory they should be better on Monday night.
Free Celtics at Bucks Game 4 Betting Preview
This series seems destined for 7 games and for in order to make that more likely to happen Boston needs to tie things up on Monday night. They'll be able to do that with a better performance from Tatum, and they've already shown that even with a 40+ point outing from Antetokounmpo the Celtics can keep the game close.
Free Pick: Boston +1