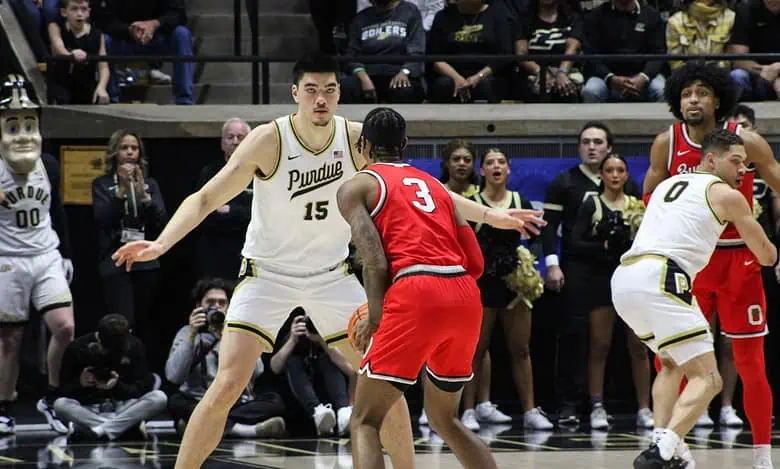 OSU has put together quite a run – albeit an unexpected one – as they head into the Big Ten Tournament Ohio State vs Purdue matchup. The Buckeyes (16-18) came to Chicago this weekend as the #13 seed after going just 5-15 in conference play, but have so far knocked off Wisconsin, Iowa, and Michigan State.
Purdue made their 2023 Big Ten tournament debut on Friday, enjoying the double bye as the #1 seed while knocking off Rutgers 70-65 which did not cover the -6.5 point spread. The Boilermakers won both meetings with OSU this season, and are -7.5 favorites for Saturday's game but somewhat surprisingly 55% of public bettors are taking the points.
Why Ohio State Can Cover +7.5 Points
The Buckeyes don't seem like they have any chance in the Big Ten Tournament Ohio State vs Purdue matchup, but OSU was also an underdog the last two days when they beat Iowa 73-69 at +4 and Michigan State 68-58 at +6.
Sometimes teams just get hot in March, and that seems to be the spot Ohio State is in as they are just two wins away from an automatic berth in the NCAA Tournament. There aren't a ton of metrics that favor OSU here against the #3 team in the country – they were 6th in scoring and 10th defensively in the conference – but sometimes momentum is all you need.
What Ohio State has done this weekend is band together in the absence of leading scorer Brice Sensabaugh (16.5 ppg) who is battling knee soreness suffered in the Iowa game. Bruce Thornton had 21 points, Roddy Gayle, Jr. 15, and Justice Sueing 14 to pick up the win over the #4 seed Spartans.
Why Purdue Can Cover -7.5 Points
Ohio State is playing loose right now as the lowest seed to ever make the Big Ten Tournament semifinals, and as Gayle, Jr. put it they are "playing free basketball." At a certain point though these players are still human, and taking the court for the fourth time in as many days eventually takes its toll on everybody – especially when Purdue has played just one game this week.
The Buckeyes did battle hard in a 71-69 loss to the Boilermakers on January 5th when Purdue was ranked #1 in the country. That game was also at home though, saw OSU as a -2 point favorites, and was when they had 21 points from Sensabaugh.
Purdue gave Ohio State a dose of reality when the teams met for the second time on February 19th in an 82-55 whitewashing that easily covered even a -12.5 point spread. OSU had no answer for 7'4 Zach Edey, the Big Ten Player of the Year who had 26 points and 11 rebounds in that contest. Edey also had 16/11 in the first meeting with the Buckeyes, so he'll be a problem on Saturday again.
Free Big Ten Tournament Ohio State at Purdue Betting Pick
It's been a nice run for the Buckeyes, but fatigue is going to catch up with them on Saturday. When you're asked to fight for every point playing your fourth game in four days while the opponent can just dump it down into their giant on the other end – and with the Buckeyes likely missing their leading scorer – this one could get out of hand.
Free Pick: Purdue -7.5