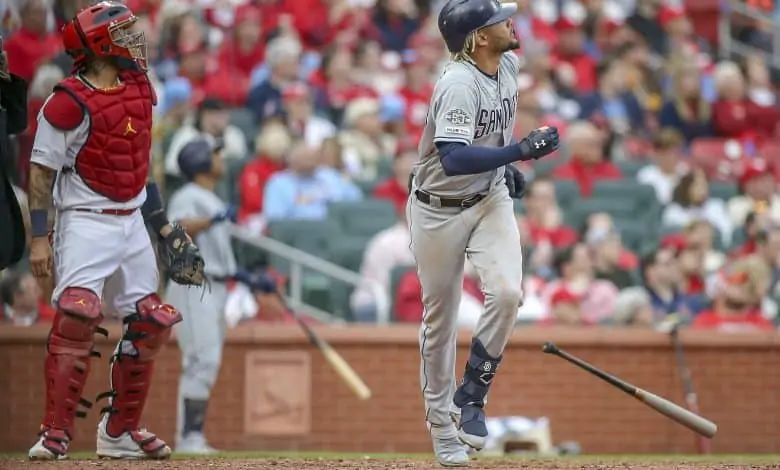 Two teams in the jumbled mess for the NL wild card race meet up in the September 17th Padres at Cardinals matchup. San Diego bounced back from a five game losing streak to take the last two in their series against San Francisco while the Cardinals continue their impressive run with wins in 7 of the last 8.
St. Louis is a -126 favorite in Friday's series opener trying to hold on to their 1/2 game lead over San Diego for the 2nd wild card spot in the National League. The Cardinals do have the edge of an idle game on the schedule Thursday, while the Padres are making a road trek after playing the last 9 games on the West Coast.
Padres Offense Heating Up?
It's no secret what San Diego's problem was during their 5-game losing streak, as the Padres were held to a run or less in four of those games. The Padres have broken out over the last two games though, beating the Giants 9-6 on Wednesday when SF was in a bullpen day but then taking down Cy Young contender Kevin Gausman in a 7-4 win on Thursday as +159 underdogs.
Fernando Tatis, Jr. has powered the Padres to their breakout performances the last two days, going a combined 6 for 8 while also hitting his 39th HR of the season on Thursday. Somebody else needs to step up in the September 17th Padres at Cardinals game though, as Tatis, Jr. has hit two of SD's three HRs over the past week.
San Diego is trying to work through injuries to their starting rotation with Blake Snell and Chris Paddack on the IL. That has forced the team to sign veteran Vince Velasquez to get the start on Friday night. The right-hander had a 5.95 ERA in 19 appearances with the Phillies this year, but was recently released by Philadelphia.
Cardinals Offense Set to Shine
St. Louis has to love the opportunity to face a pitcher in Velasquez who hasn't started since the end of July. San Diego is looking for anybody to eat up innings now though, even if that guy was 0-4 with a 12.23 ERA in five July starts for the Phillies.
Coincidentally the St. Louis offense is cruising right now, scoring 25 total runs in their three game sweep of the Mets this week. Paul Goldschmidt is on a tear with a .522 OBP over the past week while Nolan Arenado has belted out 3 HRs in his past five games. The Padres also used six relievers on Thursday, so are a bit fatigued on the back end of their pitching staff as well as for starters.
Even if the Cards' get some hits going, Miles Mikolas (0-2, 5.47 ERA) still has to do his part in just his sixth start since returning from a shoulder injury. Mikolas has allowed 4 ER in three straight starts.
September 17th Padres at Cardinals Pick
St. Louis has some incredible value at -126 riding a five game win streak and coming after an off day on Thursday. Both pitchers are also wild cards, especially with the Padres signing somebody off the scrap heap to eat up innings.
Cardinals 7 – Padres 5
Free Pick: St. Louis -126
Free Pick: Over 9