The second NFC wild card game will be played at 4:40 p.m. ET on Jan. 8 at Green Bay as the New York Giants (11-5) visit the Packers (10-6). The temperature will be well below freezing for this contest. The Giants are the fifth seed in the NFC playoffs while Green Bay, which captured the NFC North, comes in as the fourth. Here's what we're considering in our Giants play Packers NFC wild card free pick.
The Giants, who won three of their last five, come into this game with a low scoring offense and a very sound defense. In the final five weeks of the season, New York beat Dallas 10-7, Detroit 17-6, and Washington 19-10. They lost to Pittsburgh 24-14 and Philadelphia 24-19.
After stumbling at the mid-point of the season, the Packers really took control winning their final six games. They beat the Eagles, Texans, Seahawks, Bears, and Vikings. They secured the division crown in their final game of the season, beating Detroit 31-24. In that six game run, they beat three NFC playoff teams.
Giants Offense vs. Packers Defense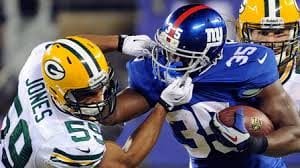 The Giant offense is scoring 19.4 PPG, placing them 26th amongst all NFL teams. Eli Manning (63.0 COMP%, 26 TDs, 16 INTs, 21 Sacks) has played decently this season. His top target is Odell Beckham (101 REC, 1,367 YDs, 13.5 YPC, 10 TDs) with Sterling Shepard (65 REC, 683 YDs, 10.5 YPC, 8 TDs) being his other go-to guy. The Giants offer a range of running back, with Rashad Jennings (181 ATT, 593 YDs, 3.3 AVG, 3 TDs) getting the majority of the carries.
This season, the Packers have allowed an average of 24.3 PPG. However, in their last six games, they're allowing just 18.7 PPG. The Packer D has a hefty 40 sacks and solid 17 INTs. They also have notched 87 PD, 54 TFL and 10 FF, recovering eight. LB Nick Perry is the sack leader with 11. He also has five TFL, four PD, and one INT. Perry is questionable for Sunday. In the secondary, safety Ha Ha Clinton-Dix leads the team in picks with five. CB LaDarius Gunter has 12 PD, while Michad Hyde and Damarious Randall each have nine passes defended and three interceptions.
Green Bay Offense vs. Giants Defense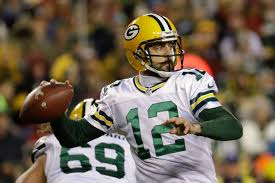 QB Aaron Rodgers (40 TDs, 7 INTs, 35 Sacks) comes into this game leading a team that's scoring 27.0 PPG. Rodgers will need protection if Green Bay is going to beat the Giants in this game. His two top pass catchers are WRs Jordy Nelson (97 REC, 1,257 YDs, 13.0 AVG, 14 TDs) and Davante Adams (75 REC, 997 YDs, 13.3 AVG, 12 TDs). His third guy, Randall Cobb, is out. With the injury to RB Eddie Lacy, Green Bay has had a tough time on the ground. Lately, Ty Montgomery has been doing a decent job, averaging 5.9 YPA and scoring three touchdowns.
The Giant defense, which is allowing 17.8 PPG making them first in the NFC in that category, can come at teams and generate miscues. They bring 35 sacks, 17 interceptions, and 17 forced fumbles to this game. They also have a solid 54 TFL and an impressive 97 PD. Safety Landon Collins does it all. He leads the team in solo (100) and total tackles (125) and is second in interceptions (5). He also has four sacks, five TFL and 13 PD. DE Olivier Vernon leads the team in sacks with 8.5. He also has eight TFL. Unfortunately, DE Jason Pierre-Paul (7 Sacks, 3 TFL, 8 PD, 3 FF) is out with a groin injury. It will be tough for the defense to fill his shoes. CB Dominique Rodgers-Cromartie is tops in interceptions (6) and passes defended (21).
Giants Play Packers NFC Wild Card Free Pick
This is an interesting matchup because you never know if either the NY offense or the Green Bay defense will show up. To be fair to the Packers, except for a few hiccups, their defense has been fairly solid down the stretch.
In our Giants play Packers NFC wild card free pick were are taking the under at 45 and the Giants at plus 5.5. Once again, this final NFL wild card game will be played on Sunday, Jan. 8 at 4:40 p.m. ET.
Giants Play Packers NFC Wild Card Free Pick: Bet the under at 45 and the Giants at +5.5