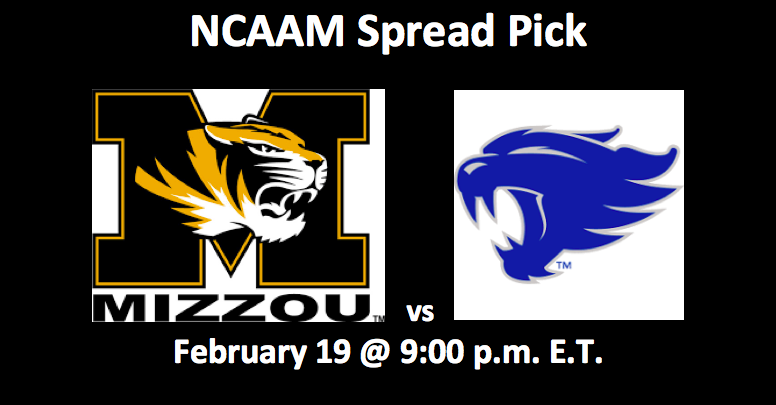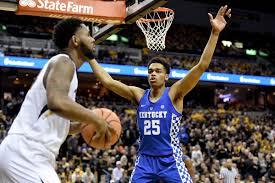 Our Missouri vs Kentucky pick for Tuesday, February 19 has the Wildcats favored by 11.5 points. The #4 Kentucky Wildcats (21-4 Overall, 10-2 SEC) are third in the conference, sitting one game behind both Tennessee and LSU. The Missouri Tigers (12-12 Overall, 3-9 SEC) are tied for 11th in the conference with Texas A&M. Kentucky, which just vanquished #4 Tennessee on February 16 by 17 points, 86-69, comes to this game looking to start another long winning streak. On February 12, their 10-game winning streak was broken by #19 LSU, as they lost to the Tigers 73-71. Missouri is coming off a 75-65 loss to Ole Miss on February 16. The Tigers are 3-7 for their last 10. Here's our Kentucky vs Missouri pick. The game tips off at 9 pm ET.
Stats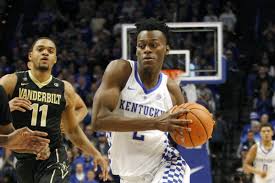 There's no doubt about it that the Tigers will be challenged by the Wildcats tonight. Kentucky is averaging 78.7 PPG, while Missouri is good for just 68.0 PPG. Defensively, the Cats are giving up 65.6 PPG. The Tigers are offering opponents 68.9 PPG. Kentucky is over four percentage points better on field goals and is grabbing 39.0 RPG to Missouri's 35.0 RPG. The Cats also lead in assists (14.2-to-11.1), blocks (4.9-to-1.8), and steals (6.6-to-4.6). When it comes to turnovers, Kentucky is posting 12.8 per game. The Tigers are turning the ball over 14.6 times per game. In this game, the Cats clearly have the advantage statistically.
Edge: Kentucky
Players to Watch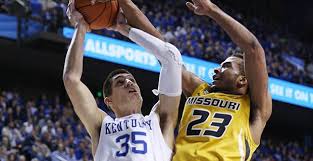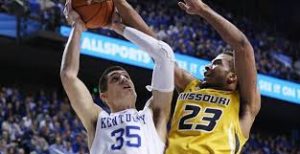 Our Missouri vs Kentucky pick sees the Cats front and back courts are having the potential to dominate this game. In front, Kentucky forward P.J. Washington is averaging 14.8 PPG and 8.0 RPG. He's also a 43% shooter from downtown. Senior forward Reid Travis is tough in the paint, bringing down 7.1 RPG and putting up 11.6 PPG. In the backcourt, Keldon Johnson is hitting 41% of his threes and 49% of his field goals. Across from him, Tyler Herro is averaging 13.4 PPG, while guard Ashton Hagans is averaging 4.5 APG.
The Tigers will be missing guard Mark Smith, who's second in scoring with 12.1 PPG. Jordan Geist leads the team in points per game with 14.2 and also in assists per game with 3.1. Forwards Jeremiah Tilman (10.9 PPG, 5.7 RPG) and Kevin Puryear (7.3 PPG, 5.4 RPG) will be challenged to hold their own in the paint.
Edge: Kentucky
Five Trends in this Wildcats at Tigers Matchup
ATS away Cats are 7-2
Last 10 games, Kentucky is 9-1 ATS and 5-0 ATS in last five road games
Mizzou is 2-3-2 ATS in last seven home games
Tigers are 3-6 in last nine games when playing Cats
In last 10 games, Wildcats are 5-3-2 when playing Tigers
Edge: Kentucky
Our Missouri vs Kentucky Pick
We do think that the Wildcats will control this game and even dominate. They are a complete team and can ably take over this contest. The Tigers have struggled this season and don't possess the depth or the talent to compete against the Cats. Our Missouri vs Kentucky pick likes the Wildcats at -11.5.
Summary Missouri vs Kentucky Point Spread Pick: Kentucky at -11.5